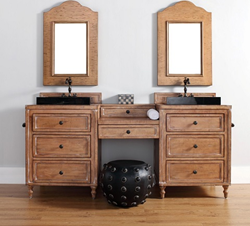 Because modular vanity sets are designed to be more flexible, there's more room to pick and choose both the type of vanity and the type of storage, for a totally customized bathroom makeup vanity.
(PRWEB) July 30, 2014
HomeThangs.com – the Online Home Improvement Store has made their goal to deliver the right product to the consumer. With that in mind, shopping and home design tips, as well as special product selections, are being introduced.
Makeup stations are often the domain of custom bathroom cabinetry and antique furniture. Even though makeup areas generally consist of little more than a simple countertop extension, it can be quite difficult to find pre-made vanities that come standard with this feature. For those who want to avoid the expense and hassle of having a vanity custom built, HomeThangs.com has introduced a guide to a simple way to get a makeup station built directly into a bathroom vanity using pieces from a modular vanity set.
The concept behind modular bathroom vanities is fairly simple: instead of just designing a single bathroom vanity, a collection might include vanities of multiple sizes and add-on storage pieces, like extra sets of drawers or countertop bridges to connect one piece to another. Building a bathroom makeup vanity is as simple as bridging a traditional bathroom vanity with an extra set of drawers. The drawers provide plenty of added storage for makeup and hair care products, while the stone vanity top in between is situated at just the right height to use comfortably while seated.
Using this method, it's possible to build a bathroom vanity with a makeup area as wide or narrow as needed. Bridge pieces are usually between 20″ and 24″ wide (though they can be as narrow as 12″), and can be combined to create much larger surface area to provide more room for sitting. As a bonus, many bridge pieces come with built in drawers, which not only provide additional storage, but also gives them a little more heft, making them look like an organic part of the vanity.
Perhaps the biggest advantage of building bathroom makeup vanity furniture from modular pieces rather than having them custom made is that designer vanity sets tend to have a lot more style. The Toby collection from Sagehill Designs, for example, has a gorgeous textured oak finish and matching hardware and a striking, contemporary open shelf design that would take a skilled cabinetmaker to replicate.
Plus, because modular vanity sets are designed to be more flexible, there's more room to pick and choose both the type of vanity and the type of storage. Sagehill's modular collections offer base vanities in 24″, 30″, 36″, and 48″ inch widths, and any of these can be combined with additional drawer storage, side cabinets, or even other vanities, bridged together with a makeup area to create a bathroom makeup vanity in just about any size or shape.
While most custom cabinets are designed to take up a whole bathroom, a bathroom makeup vanity made from modular parts can range anywhere from a relatively petite 60″ (like a traditional dressing table) to a wall-to-wall or full room installation, depending on the type and number of parts used. In a way, this is the best of both worlds: the ability of custom cabinetry to scale up for a large room, and the ability of a pre-made vanity to work well in a smaller space.
Admittedly, these modular sets are still a bit rare and can be somewhat difficult to find, but they're beginning to become more common, and more designs, pieces, and configurations are becoming available all the time. Since bathroom vanities with makeup areas are both so desirable and so rare, this middle-of-the-line compromise for building a bathroom makeup vanity will only become more popular.
For more thoughts on how to integrate a makeup area into a bathroom vanity, check out the full article here.
HomeThangs.com is not only a home improvement superstore, it also provides expert design tips and a comprehensive shopping guide, taking the ideas from professional interior designers, and offering tips to the consumers on how to pick the products to best suit their needs.