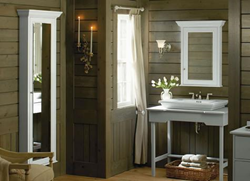 Even a bathroom that's in overall good condition can benefit from a cosmetic facelift.
(PRWEB) September 19, 2013
HomeThangs.com – the Online Home Improvement Store has made their goal to deliver the right product to the consumer. With that in mind, shopping and home design tips, as well as special product selections are being introduced.
Getting ready to sell a house is more of an art than a science. Before a house goes on the market, it needs to be made as presentable as possible, but investing a lot of time and money into updating a home that's about to go on the market isn't always the best move. Knowing where to spend and what projects to skip can be especially difficult, as different features can offer vastly different returns on the initial investment. Having updated bathrooms is especially important, and can even make or break the sale of a home, so HomeThangs.com has introduced a guide to choosing which projects to undertake to get the best results for every dollar spent.
1. Lighting
One of the absolute best ways to improve the appearance of any bathroom is to upgrade the bathroom lighting. This is true of almost any bathroom; bright spaces always look larger and cleaner than dark ones, so even swapping bulbs to a higher wattage can make a difference. Replacing an old fixture with a new one (especially one with more or brighter bulbs) is a relatively DIY friendly project that shouldn't cost more than a hundred dollars, but will make a huge difference in the overall appeal of the bathroom. Adding a second lighting fixture can be a little bit more involved and expensive, but will recoup most of the investment and significantly improve the look and feel of the bathroom.
2. Flooring
Whether or not to update a bathroom floor depends largely on the type and condition of the existing flooring. Ceramic tile in reasonably good condition probably isn't worth replacing due to the difficulty of removing it. But old, stained, or visibly damaged vinyl or linoleum (or worse, carpet) should absolutely be replaced. These items are much easier to remove, and even a budget replacement will help the bathroom look cleaner and newer. That said, porcelain or ceramic – especially luxury stone or wood print tile, while more expensive, will add more to the overall value of the home.
3. Bathroom Vanity
Surprisingly, swapping out a bathroom vanity offers one of the greatest returns on investment of any project in the bathroom. A decent vanity in good structural and visual condition probably isn't worth replacing, but one that's old, worn, or obviously outdated (read: made of golden oak, or with a pastel sink or vanity top), simply replacing it can completely transform the appearance of a bathroom. Bathroom vanity combos that come with sleek granite or marble counter tops are surprisingly affordable, and take much of the headache out of the project.
4. Storage
Built in storage has become a hugely desirable feature, both in bathrooms and in kitchens, and adding more storage to a bathroom is a great way to add value to the home. Even simple shelves can make a bathroom more desirable, but installing recessed cabinets or adding utility to existing cabinets (like pull out shelves or drawer organizers), is absolutely worth the cost. These features will appeal to practically every buyer, and even more expensive options offer a full return on the investment.
5. Cosmetics
Even a bathroom that's in overall good condition can benefit from a cosmetic facelift. A fresh coat of paint in a light color can do wonders for the space. For those still living in their homes while they're on the market, attempt to minimize the number of personal items left in plain view. Buy new, nice looking towels and a matching shower curtain, and coordinating accessories like decorative shower rings and a matching soap dish and toothbrush holder. Swapping out the hardware on the bathroom vanity, the shower head and tub spout, toilet paper holder, and towel bars are all small, inexpensive ways to boost the appearance of a bathroom without making any big changes.
To see some of these ideas in action, check out the full article here.
HomeThangs.com is not only a home improvement superstore, it also provides expert design tips and a comprehensive shopping guide, taking the ideas from professional interior designers, and offering tips to the consumers on how to pick the products to best suit their needs.