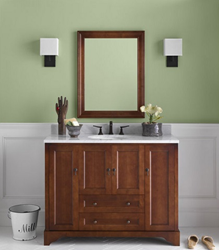 Changing up the size, shape, and placement of the cabinet doors and drawers is a great way to give a shaker style bathroom vanity a more unique and distinctive look.
(PRWEB) February 23, 2015
HomeThangs.com – the Online Home Improvement Store has made their goal to deliver the right product to the consumer. With that in mind, shopping and home design tips, as well as special product selections are being introduced.
Shaker style cabinets have seen a huge rise in popularity in the last year in both the kitchen and the bathroom. But this look is one that's very easy to adapt to a lot of different bathroom styles and vanity types. Since the main defining feature of a shaker cabinet is the style of the doors, a makeshift shaker style can be applied to a vanity of almost any size or shape. HomeThangs.com has introduced a quick guide to some unique variations to really make a basic shaker style shine.
Basic shaker cabinets are very simple and square, with small feet and very little ornamentation. But while adding detail would dramatically change the style of a shaker vanity, altering the layout can be very effective. Raising the cabinets up higher for an open-shelf style creates are more relaxed, cottage style, while changing the size, shape, and placement of cabinets and drawers can make a vanity feel more modern or more traditional. Adding subtle embellishments to the joints on the cabinet door frame or even adding an additional horizontal or vertical bar to the center of the door panel can significantly change the feel of the vanity, since small changes on a very simple vanity can make a big difference.
For a more in-depth look at a few ways to dress up and alter a shaker style bathroom vanity, check out the full article here.
HomeThangs.com is not only a home improvement superstore, it also provides expert design tips and a comprehensive shopping guide, taking the ideas from professional interior designers, and offering tips to the consumers on how to pick the products to best suit their needs.