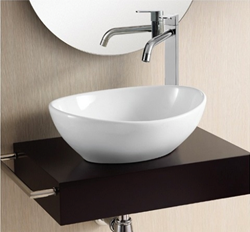 Choosing a sink for practical reasons can result not only in a more usable space, but also one that's more aesthetically pleasing.
(PRWEB) February 27, 2014
HomeThangs.com – the Online Home Improvement Store has made their goal to deliver the right product to the consumer. With that in mind, shopping and home design tips, as well as special product selections are being introduced.
Choosing a new bathroom sink is usually about style, but different types of sinks can also be used to solve a few of the common problems that arise from the size, layout, or way a bathroom is used. HomeThangs.com has introduced a guide to choosing the right sink for a small, narrow, or heavily trafficked bathroom.
Classic pedestal sinks are known for their style and have become a common sight in bathrooms of all sizes and shapes. But this iconic sink was originally designed for very small bathrooms, and can be a godsend in a very narrow bathroom space. At their widest point, pedestal sinks are typically almost as wide as an average smallish bathroom vanity, but from there they get abruptly much narrower. This allows a toilet to be placed much closer to the sink than it would be to a full vanity, without making either feel crowded.
In bathrooms too small for a pedestal sink, slim wall mounted sinks are one of the best options out there. These are bare-bones fixtures sit close to the wall and won't block movement through the bathroom, but can be quite attractive, with many designs sporting a unique, sculptural quality that makes them feel a little less utilitarian.
Bathrooms shared by many small children can be messy and chaotic. Trough style sinks, which have two or more faucets that feed into a very large, oblong basin with a single drain, make it possible for two or three or even four children to use the same sink at once. They often take up less space than a traditional double vanity, and help prevent messes because the entire surface is a graded sink.
Vessel sinks are popular mostly because they're pretty, but they also offer a little hidden functionality. Unlike conventional bathroom sinks, vessel sinks sit on top of the vanity. Because the sink isn't recessed, there's more usable space inside the vanity, especially right up against the vanity top. Instead of having a faux drawer panel, vanities with a vessel sink can have a fully functioning drawer right at waist level, offering much needed storage in a smaller bathroom.
Undermount sinks offer a clean, finished look, but the fact that they mount underneath a bathroom counter rather than on top of them also makes them extremely easy to clean. Many other types of sinks wind up with lots of cracks and crevices that can collect water and grime, but with an undermount sink there's nowhere for gunk to gather. Since there's no rim on the sink, either, any water, soap suds, or spills on the counter can be swept directly into the sink, making cleanup extremely quick.
Replacing an existing undermount or drop in sink with a new drop in sink is not only one of the most affordable ways to give a vanity area a quick update, it's also a very DIY friendly project. While undermount sinks require extensive installation, drop in sinks are miraculously simple to install: simply remove the old sink and set the new one in the existing opening. A rim around the edge of the sink will rest on the countertop, holding itself in place with its own weight, and because the rims can be any size or shape, the new sink can have a very different appearance without replacing the countertop.
For more great ideas about how to make the most of a bathroom sink, check out the full article here.
HomeThangs.com is not only a home improvement superstore, it also provides expert design tips and a comprehensive shopping guide, taking the ideas from professional interior designers, and offering tips to the consumers on how to pick the products to best suit their needs.