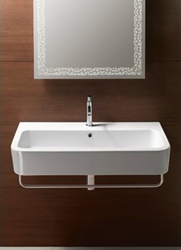 Despite the fact that they're less common than bathroom vanities, wall mounted sinks can actually be a great choice for a bathroom, especially when paired with a very modern design.
(PRWEB) May 19, 2015
HomeThangs.com – the Online Home Improvement Store has made their goal to deliver the right product to the consumer. With that in mind, shopping and home design tips, as well as special product selections are being introduced.
Wall mounted sinks are often reserved for the smallest of bathrooms. Vanities are far more common, but though wood cabinets are something of a default option, porcelain wall mounted sinks can actually be a smart and stylish choice for many bathrooms. HomeThangs.com has introduced a quick guide to a few ways that wall mounted sinks can be used as striking statement pieces in bathrooms of any size.
Wall mounted sinks are a very modern option, with simple designs that mesh well with a minimalist decor. More streamlined than even a simple wall mounted vanity, wall mounted sinks have a very lean profile, which helps emphasize the white space in a bathroom with a very spare design. The fact that wall mounted sinks are almost always made of white porcelain means they naturally coordinate with other fixtures, making it very easy to get a dramatic, high-contrast or monochromatic color scheme that's so iconic of a modern design. On a more practical note, wall mounted sinks are also great for a child's bathroom. The lack of cabinet storage means there's nothing for kids to get into, and the empty space beneath the sink is perfect for a stool, making it easy for a small child to climb up and use the sink on their own.
For a more in-depth look at some of the bathroom settings that really make a wall mounted sink shine, check out the full article here.
HomeThangs.com is not only a home improvement superstore, it also provides expert design tips and a comprehensive shopping guide, taking the ideas from professional interior designers, and offering tips to the consumers on how to pick the products to best suit their needs.