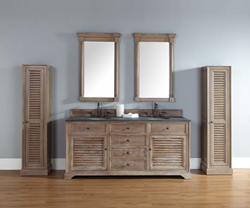 Some storage cabinets are prized primarily for their appearance, while others sacrifice traditional elegance for a streamlined, innovative modern design that offers increased functionality while taking up less space.
(PRWEB) January 06, 2015
HomeThangs.com, the Online Home Improvement Store, has made it their goal to deliver the right products to the consumers. With that in mind, shopping and home design tips, as well as special product selections are being introduced.
Bathroom storage cabinets come in all shapes and sizes, and different designs serve different functions. HomeThangs.com has introduced a new guide to properly pairing a storage cabinet with a bathroom, no matter how big or small the space, as well as a few of the most important features to keep in mind.
The height of a bathroom storage cabinet, for example, not only determines how much storage space is available inside, but also has a huge impact on how much visual space it will take up, too. Taller cabinets certainly have more storage, but they can feel looming in a smaller space. Half height cabinets offer less total storage, but keep the bathroom feeling more open, and offer additional surface space. Changing up the type of storage, from tall closed cabinets to ones with open shelves or glass cabinets on the top half can help, but even so, size is an important consideration in terms of style as well as storage.
In bathrooms where space is scarce, wall mounted storage cabinets may be a better option than traditional freestanding ones, as they take up no floor space and don't protrude very far into the room. Like medicine cabinets, these have narrow shelves and a door to keep items concealed, but they have normal wood surfaces rather than mirrored faces, and come in a much wider variety of sizes and shapes, which makes it possible to hang them almost anywhere.
For more information about specific types of bathroom storage cabinets, and to see a few unique, storage-smart varieties, check out the full article here.
HomeThangs.com is not only a home improvement superstore, it also provides expert design tips and a comprehensive shopping guide, taking the ideas from professional interior designers, and offering tips to the consumers on how to pick the products to best suit their needs.