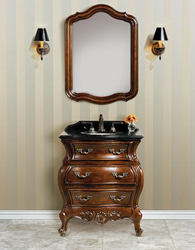 Unlike modern vanities which can get away with more than a little asymmetry, antique vanities tend to be pretty symmetrical. That said, it's worth playing with layout to improve the efficiency of a traditional vanity.
(PRWEB) March 10, 2015
HomeThangs.com – the Online Home Improvement Store has made their goal to deliver the right product to the consumer. With that in mind, shopping and home design tips, as well as special product selections are being introduced.
Antique and traditional style bathroom vanities don't exactly have a reputation for being storage smart or particularly efficient – those monikers are usually reserved for much more modern designs. But antique vanities don't have to be just for looks – choosing the right style can make for a vanity that's every bit as efficient as a compartmentalized, streamlined modern vanity. HomeThangs.com has introduced a guide to a few of the most important storage features to look for in antique and traditional vanities of all sizes.
The best way to make a traditional style vanity more efficient is to incorporate more drawers. For the smallest vanities, that means replacing the conventional large single cabinet with smaller compartments – either entirely drawers, or a mix of drawers and a smaller cabinet. With larger vanities, though, the main consideration is less the type of storage available, and more where drawers and cabinets are located in relation to the sink. The wider the vanity, the more options there are, but it's important to prioritize storage that accommodates the most used items nearest the sink, while leaving less accessible cabinets and drawers for things that aren't used on a daily basis.
For specific tips on choosing a storage smart antique style vanity in a whole range of sizes, check out the full article here.
HomeThangs.com is not only a home improvement superstore, it also provides expert design tips and a comprehensive shopping guide, taking the ideas from professional interior designers, and offering tips to the consumers on how to pick the products to best suit their needs.