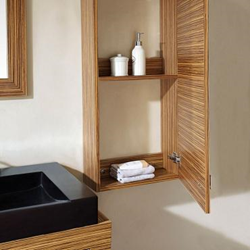 Maybe the best thing about wall mounted storage cabinets is that several can be installed on the same wall at the same time.
(PRWEB) December 11, 2013
HomeThangs.com – the Online Home Improvement Store has made their goal to deliver the right product to the consumer. With that in mind, shopping and home design tips, as well as special product selections are being introduced.
When remodeling a small bathroom, the first and most important step is choosing the right bathroom vanity - one that's small in size but that has intuitive and accessible storage. But generally speaking even the very best small bathroom vanities still really only have room for the basics. Unfortunately, in a very small bathroom there isn't always room for a separate freestanding storage cabinet. Often one of the best and sometimes only solutions is to opt for a wall mounted storage cabinet. HomeThangs.com has introduced a simple guide to these innovative cabinets as well as a few features to look for.
Traditional bathroom storage cabinets or carts take up at least one or two square feet of floor space, which is far too much to sacrifice in a truly small bathroom. Wall mounted storage cabinets, on the other hand, take up exactly zero floor space. What that means is that they can be installed in even the very smallest of bathrooms without sacrificing precious floor space or head room above the toilet.
Now, medicine cabinets can be considered a type of wall mounted storage, but they generally only come in one standard size, and because they're mirrored, they're usually only placed either directly over or directly adjacent to a bathroom vanity. True wall mounted storage cabinets are available in a greater variety of sizes - tall and thin, short and squat, and anywhere in between. Plus, while the shelves in medicine cabinets are just a few inches deep, wall mounted storage cabinets are generally a little bit deeper. Of course, the thicker the cabinet the more space it's going to take up in the bathroom, but because they don't touch the floor, they're still easier and more comfortable to walk around than a floor mounted cabinet.
One of the few ways to add space to a small bathroom without doing major construction is to use the space inside the walls. Building recessed shelves is becoming much more popular in small bathroom design, but while this can have a nice artistic touch, it isn't so great for privacy, because it means storing everything on an exposed shelf. Instead, consider installing a recessed wall mounted storage cabinet. These are installed part way or nearly entirely inside the wall, meaning they have extra shelf space without the cabinet protruding as far into the bathroom.
Maybe the best thing about wall mounted storage cabinets is that many can be installed on the same wall at the same time. Large freestanding storage cabinets can often fit in one and only one spot in a small bathroom, but wall mounted cabinets - especially recessed ones - can fit just about anywhere, at any height or any distance apart from one another, restricted only by the wall studs. That means it's easy to combine storage to meet the specific needs of any bathroom, no matter how small.
Finally, while a big, hulking freestanding cabinet screams "necessity," a more petite wall hung cabinet can actually be attractive. This admittedly tends to be more true the more modern the bathroom, but smaller, shapely wall hung cabinets can create a nice sense of balance and symmetry. Some designers even pair smaller storage pieces, like tiny square shelves, that coordinate with simple wall mounted vanities to create a display that looks almost like it's floating, weightless and streamlined and as pretty as it is functional.
HomeThangs.com is not only a home improvement superstore, it also provides expert design tips and a comprehensive shopping guide, taking the ideas from professional interior designers, and offering tips to the consumers on how to pick the products to best suit their needs.