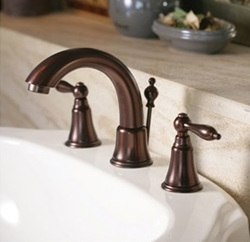 Newer faucets not only use less water, but are often better built and designed to last longer and work better, too.
(PRWEB) May 17, 2014
HomeThangs.com – the Online Home Improvement Store has made their goal to deliver the right product to the consumer. With that in mind, shopping and home design tips, as well as special product selections are being introduced.
One of the best ways to update a bathroom is unfortunately also one of the easiest to overlook: replacing the bathroom faucet. It's a project that's simple enough for even fairly inexperienced DIYers, won't cost more than one or two hundred dollars at the most, and can be done without any other major alterations. HomeThangs.com has introduced a guide to a few reasons why it's worth upgrading to a really nice, high quality new bathroom faucet.
WaterSense
Water use regulations have changed a lot since the '90s, and newer faucets are designed to use significantly less water. It's also worth noting that technology has improved a lot over the last decade, so newer bathroom faucets use less water without losing any water pressure. Special aerators inside the tap push bubbles of air into the water as it flows through, making a stream of water feel heftier even with a much lower output. In many cases, new eco-friendly faucets can even feel stronger than older models that use more water. As an easy shorthand, look for faucets with a WaterSense rated seal, as these are among the best in terms of water usage.
Widespread
Upgrading from a centerset faucet – that is, a basic faucet with a solid metal base, one or two handles, and a spigot – is a great way to get a look that's much more open and elegant without changing any other major features of the bathroom. Centerset faucets have a three hole installation – one for hot water, one for cold water, and one for the tap, but all three are covered up by a single metal plate or base. Widespread faucets can be installed in the exact same spaces in the sink or vanity top once the old faucet is removed, but come in three separate pieces – two handles and a spigot – that are each installed individually with a little bit of space in between them. The handles are typically longer and more decorative, and that small gap between each of the pieces has a really lovely, finished look.
Faux Widespread
The main drawback of true widespread faucets is that they're both a little bigger and a little more expensive than traditional centerset faucets. Faux widespread faucets are sort of a middle ground between the two. Like centerset faucets, the handle and spigot are attached to a single base, but the base is smaller, which makes the handles a bit more distinct, and the handles themselves are a little bit longer and more lever-like, to mimic the appearance of a true widespread faucet. The fact that they're affixed to a single base means the faucets have a slightly smaller footprint, and also ensures the faucet handles won't be too large, which can be a challenge with widespread faucets that can be installed at different sized intervals.
Fresh Finishes
Chrome finishes have long been the go-to for just about every type of bathroom fixture, including the bathroom faucet. But that's started to change significantly: except in a very modern design, most homeowners are moving away from highly reflective metallic finishes in favor of soft satins, brushed finishes, or even darker matte finishes like oil rubbed bronze. Since the faucet is at the center of the bathroom and often the most visible piece of hardware, swapping a chrome faucet to one with a trendier finish can significantly update the look of the space.
Better Construction
Finally, it's worth opting for a new, high quality faucet for the simple reason that they're really designed to last. Many modern faucets are designed with ceramic plates that help prevent leaks, and it's becoming more common for faucets to be built with a solid brass core, which significantly enhances their durability and longevity and helps prevent corrosion over time. A higher quality finish is less likely to show water spots or deteriorate, and brand new faucets are built according to stricter regulations, so they even contain less lead.
HomeThangs.com is not only a home improvement superstore, it also provides expert design tips and a comprehensive shopping guide, taking the ideas from professional interior designers, and offering tips to the consumers on how to pick the products to best suit their needs.