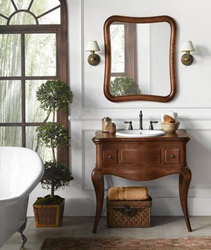 The key to creating an antique inspired vanity that will work in a contemporary bathroom is to re-imagine the antique design and strip away all the flounces and flourishes while maintaining an iconic silhouette.
(PRWEB) December 18, 2013
HomeThangs.com – the Online Home Improvement Store has made their goal to deliver the right product to the consumer. With that in mind, shopping and home design tips, as well as special product selections are being introduced.
Often when people talk about transitional bathroom vanities, what they really mean is traditional vanities pared down into simple, straight, often extremely square modern lines. But while this works great for a casual, contemporary bathroom, it isn't really the hybrid of antique and modern sensibilities it often claims to be. HomeThangs.com has introduced a guide to getting bathroom vanities with a little classic, antique flair that aren't too ostentatious for a contemporary bathroom.
The key is to focus on simplicity, but discard the modern tendency toward straight lines and sharp angles. Square, boxy shapes are practically a defining feature of modern, contemporary, and transitional bathroom vanities, which means the #1 best way to get a slightly more antique flair is to look for is bathroom vanities with a little curve. Even a perfectly simple vanity gains polish and sophistication from the addition of curvy cabriole legs.
The French antiques this silhouette is based on are so iconic that they're instantly recognizable as "antique," no matter how simple the rest of the vanity. The Vintage collection from RonBow plays this fact up to its fullest, borrowing liberally from the Louis XV style, but streamlining and dramatically simplifying it down to a sleek, minimalist version of itself. The birch hardwood is allowed to be the star, rather than a lot of detailed woodwork, which results in a tremendously elegant vanity that's still simple enough to work in a casual, contemporary bathroom.
Curvy cabriole legs (also known as Queen Anne legs) are the easiest way to get a classy, antique bathroom vanity. Whether they're tall or short, thin or squat, wide or narrow, adding that simple little bit of curve (plus that slight elevation up off the floor) just makes a bathroom vanity feel more like furniture than a built in cabinet. By itself, that furniture-like vibe helps create a more classic, sophisticated look and feel, no matter how simple the overall design.
The legs aren't the only place to incorporate a little curve to a bathroom vanity. Again using French antiques as an inspiration, simplified bombe chests – which bow out in the middle to create a sort of reverse hourglass – have a classic, curvy look that's totally unique. Often these are played up as being specifically furniture-like, mimicking old fashioned dressers but with much simpler, cleaner lines than the original antiques. They also have the heft (and capacity) of a full sized cabinet while retaining that slightly more delicate, sinuous appearance.
Bathroom vanities that are fully rounded – as in, cylindrically shaped – are great for establishing a sophisticated, antique feel in a more contemporary bathroom for a similar reason. Because square is king in modern design, rounding off the edges of a vanity immediately makes it feel more old fashioned. The curved lines are elegant and put the vanity in relief, separating it and making it stand out from the surrounding area.
It's worth noting that a squared off design isn't a kiss of death to merging an antique and contemporary style. While many of the most effective styles tend to be on the curvy side in one way or another, the key is really to reimagine an antique design and strip away all the flounces and flourishes while maintaining an iconic silhouette. Classic, antique open-shelf designs are a great example: replacing tooled legs with simple, straight posts, and skipping on the complicated woodwork leaves nothing but an iconic antique streamlined for a contemporary bathroom.
To see more of these gorgeous contemporary antique vanities, check out the full article here.
HomeThangs.com is not only a home improvement superstore, it also provides expert design tips and a comprehensive shopping guide, taking the ideas from professional interior designers, and offering tips to the consumers on how to pick the products to best suit their needs.