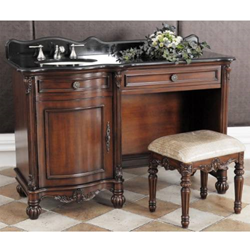 Simply extending the vanity top beyond the edges of the cabinet makes for a shelf that's big enough to use as a makeup table.
(PRWEB) October 31, 2013
HomeThangs.com – the Online Home Improvement Store has made their goal to deliver the right product to the consumer. With that in mind, shopping and home design tips, as well as special product selections are being introduced.
In recent years, dedicated makeup stations and dressing tables have become increasingly popular in high end, luxury bathroom design - especially in large master suites. But built in dressing tables are almost always part of a custom built set of bathroom cabinets, which can be quite expensive. For those with a limited budget (or limited bathroom space), HomeThangs.com has introduced a guide to a few alternative ways to get a dressing table.
The most straightforward way to add a makeup station to a bathroom is to simply attach one to the side of the bathroom vanity. Admittedly, vanities in this style aren't particularly common, though they're a little moreso among antique styles. These consist of one full sized cabinet and an L-shaped addition with just enough room to sit, and sometimes an additional drawer for makeup storage.
Bathroom vanities with offset sinks are another option, and these are much easier to find. Some are designed specifically to act as dressing tables while others are intended for more general counter space, but either way, setting the sink way off to one side provides a nice amount of uninterrupted counter that can easily be used as a makeup station. The catch here is that in order to be able to sit comfortably in front of it, the vanity needs to be a totally open, table-style vanity, which means sacrificing most of the other storage in favor of the dressing table functionality.
Similarly, extending the vanity top beyond the edges of the vanity cabinet makes for a shelf that's big enough to use as a makeup table. Vanities that do this are almost exclusively modern in design, and are often parts of modular collections. That is, the vanity, counters, and drawers can be purchased separately and assembled in various configurations. Wall mounted versions can be installed to a comfortable sitting height, while the addition of a vessel sink can keep it from feeling too short when used while standing.
Building custom bathroom cabinets from scratch is expensive, often prohibitively so. But in a very large bathroom, it can be difficult to find a pre-made vanity large enough to fit the bigger space. To bridge this gap, companies like Sagehill Designs offer extensive modular vanity collections that can be pieced together in a similar way to custom cabinetry without building them from the floor up. A simple makeup bridge is easy to add, whether it's alongside a smaller cabinet or designed into a large project meant to take up a full wall in a large bathroom.
Finally, if space allows, it's worth considering simply purchasing a separate dressing table. These range a little in size, but are generally about the same size and shape as a small desk. Antique models typically come with a built in mirror and several small, stacked drawers, while more modern incarnations sometimes have a lid that folds down to look like a seamless tabletop, and opens to reveal a mirror and segmented drawer organizers inside. These take up a little more space than integrated makeup stations, but can be installed just about anywhere.
HomeThangs.com is not only a home improvement superstore, it also provides expert design tips and a comprehensive shopping guide, taking the ideas from professional interior designers, and offering tips to the consumers on how to pick the products to best suit their needs.