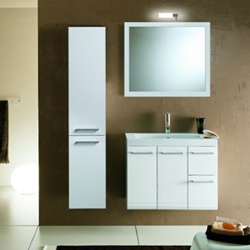 Many European style bathroom vanities are part of a larger collection, and can easily be paired with add-on storage cabinets in a wide variety of sizes, shapes, and installation types, making it even easier to add more storage to a small bathroom.
(PRWEB) January 04, 2015
HomeThangs.com, the Online Home Improvement Store, has made it their goal to deliver the right products to the consumers. With that in mind, shopping and home design tips, as well as special product selections are being introduced.
Choosing a vanity for a small bathroom can be difficult. Many American manufacturers design their vanities for larger spaces, and scaled-down versions often leave something left wanted, both in terms of appearance and storage. But European designers like Iotti are much more likely to specialize in vanities engineered for smaller spaces. HomeThangs.com has introduced a guide to a few of the reasons why it's worthwhile to shop from manufacturers across the pond.
American "small" vanities tend to simply be narrower versions of vanities designed for larger spaces, but that means that all too often they're still too large and hefty for a small bathroom. European vanities trim down the design in all dimensions, creating vanities that are not merely narrow, but that sit close to the wall and incorporate ample white space into the design, which makes a small bathroom feel more open and less crowded. Some vanities are even lean enough that they can be dual-purpose as dressing tables with the simple addition of a chair or stool.
European style bathroom vanities also often come with more intuitive and innovative storage. Simple design tweaks make it easy to add drawers for utility, but many state-side manufacturers simply neglect to make these changes. European vanity collections also tend to include a lot more options in terms of supplemental storage, making it much simpler to incorporate extra storage into a limited floor plan.
For more thoughts on some of the advantages of European style bathroom vanities, or to see more beautiful vanities from Iotti, check out the full article here.
HomeThangs.com is not only a home improvement superstore, it also provides expert design tips and a comprehensive shopping guide, taking the ideas from professional interior designers, and offering tips to the consumers on how to pick the products to best suit their needs.