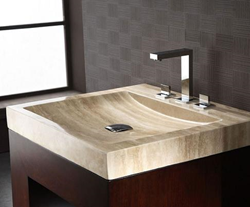 Like stone vessel sinks, integrated stone sinks offer an affordable way to incorporate the beauty of natural stone into a bathroom on a limited budget.
(PRWEB) August 29, 2013
HomeThangs.com – the Online Home Improvement Store has made their goal to deliver the right product to the consumer. With that in mind, shopping and home design tips, as well as special product selections are being introduced.
Stone vessel sinks are an affordable way to incorporate a unique stone feature into a bathroom, but it's worth nothing that not all stone sinks are above-counter sinks. In fact, some of the most cutting edge stone sink designs are actually quite the opposite: they're built into the counters themselves. Integrated sinks are most often made of glass or ceramic, but integrated stone sinks have started to make a showing as well. HomeThangs.com has introduced a guide to this traditional twist on a rather modern trend.
The very most basic integrated stone sinks are very much similar to ones made out of glass or ceramic. A single, thick slab of stone is cut to form the vanity top, but rather than having a hole cut out to accommodate a sink, the sink is carved directly into the surface of the stone. These can come in a variety of sizes and shapes, from a more traditional bowl to large, shallow rectangles that create wide trough-style sinks.
Even this basic setup is quite visually appealing, as it creates a smooth continuous surface of patterned stone. Better still, because each piece of stone is different, every integrated stone sink is unique, too. While it will, of course, conform to a general stone color (like vein cut travertine or Kashmir gold granite) the actual patterning on the stone will vary, sometimes widely. That means that even a very simple square design will be full of visual appeal – far more so than a basic bathroom sink.
For something even more impressive, integrated stone sinks are also commonly shaped into what's referred to as a "ramp sink." Rather than having a rectangular or rounded interior, these sinks have triangular or prism shaped insides that lead to a long, thin drain that runs like a crack along the bottom of the sink rather than the traditional circular drain. These can be more or less intricately carved, are able to drain either one or two taps, and add a unique and stylish twist even to a simple bathroom vanity.
Integrated stone sinks can also be made to resemble traditional farmhouse style apron sinks. These are definitely on the rarer side, but make for a truly spectacular way to show off the stone elements of a bathroom. Like traditional farmhouse sinks, these have an "apron" on the front, or in this case a simple rectangular panel of stone that makes up the front wall of the sink. Where most integrated stone sinks sit on top of a bathroom vanity, these actually nestle in recesses in the cabinetry, again very much like traditional farmhouse sinks.
Like stone vessel sinks, integrated stone sinks offer an affordable way to integrate the beauty of natural stone into a bathroom on a limited budget. Especially when lavish stone tile is out of the question, an impressive, stylish stone sink is a good way to close the gap, putting stone at the center of the bathroom design, even if it's in limited quantities.
It's important to note, though, that unlike vessel sinks – which almost always have a standard sized base – integrated stone sinks often have to be paired and purchased with a matching bathroom vanity to ensure a proper fit. That said, even the most intricately crafted stone sinks don't make the vanity tops prohibitively expensive, with many designs that are roughly cost equivalent to a stone vanity top plus a designer sink.
Integrated stone sinks will require a little more care than standard porcelain or ceramic sinks. Broadly speaking, stone simply isn't as resistant to staining and discoloration because it's more porous than other more common materials. That said, care and maintenance will vary depending on the type of stone used, how it's sealed, and how and how often it's used. Different types of stone will require different types of maintenance, but the sink should get the same treatment as the counter, meaning it gets a thorough rinsing and maybe a gentle pat dry after use.
For more of these beautiful sinks, read the full article here, or check out more great designs from Xylem, Silkroad Exclusive, and James Martin Furniture.
HomeThangs.com is not only a home improvement superstore, it also provides expert design tips and a comprehensive shopping guide, taking the ideas from professional interior designers, and offering tips to the consumers on how to pick the products to best suit their needs.