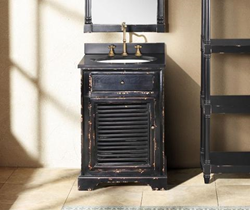 Many manufacturers have started producing intentionally weathered bathroom vanities, some of them very heavily worn and incredibly authentic looking.
(PRWEB) August 26, 2013
HomeThangs.com – the Online Home Improvement Store has made their goal to deliver the right product to the consumer. With that in mind, shopping and home design tips, as well as special product selections are being introduced.
Shabby chic design is making a comeback: old seems to be the new new, and found, reclaimed, and refurbished furniture has become highly desirable in just about every room in the home. But getting this look in a bathroom can be a challenge even for seasoned crafters, because a rustic antique finish doesn't always play well with water and humidity. HomeThangs.com has introduced a guide to getting the best of both worlds, with faux weathered bathroom vanities.
Reclaimed furniture looks great in the bathroom, creating a casual, comfortable vibe that only comes from well-worn furniture. Even a simple accent chair can add an inviting, homey touch to almost any style of bathroom decor. Weathered bathroom vanities in particular can create a feeling of history, especially in an older home. Unfortunately, truly aged finishes simply can't hold up to the hot, humid conditions of a bathroom. And while weathered bathroom vanities won't bear the brunt of the water the way a shower will, the simple reality of the moisture in the air, spills from the sink, and so on can quickly ruin a piece that isn't properly sealed.
But a roughed up finish doesn't necessarily have to be a vulnerable one. In fact, many manufacturers have started producing intentionally weathered bathroom vanities, some of them very heavily worn and incredibly authentic looking. But their rough and tumble appearance belies the care with which each of these vanities is made. Every chip and paint peel is intentional, carefully crafted and – more importantly – very carefully sealed. For example, the weathered vanities from James Martin Furniture undergo a 15 step finishing and sealing process to prevent (further) peeling or chipping, cracking, or warping – a safeguard that found furniture simply doesn't have.
Weathered white bathroom vanities are particularly popular, and typically come in two types: ones that have textural weathering (i.e. chips and cracks) and ones that have color weathering (i.e. a parchment, cream, or otherwise yellowed-white rather than a pure white). A vanity can have more or less of either, but ones that skew toward a lighter, brighter white tend to keep a heavily textured vanity looking a little cleaner.
One of the biggest drawbacks of decorating with reclaimed furniture is that, frankly, if it isn't done right it can look a little dingy. The wrong shade of parchment can look grimy, and even dark creams that look perfectly lovely on paper can look practically cigarette-stained in the wrong light. Brighter, whiter whites look fresher and cleaner even in low light settings, which can help compensate for the aged finish. Done right, this will make the vanity look historied rather than merely old.
It's also worth mentioning that both white and black weathered bathroom vanities sort of draw attention to themselves. Any break in a solid black finish creates a very visible contrast in color, while chips and cracks on a white finish stand out like footprints in the snow. For a more subtle look, consider opting for another color. A soft powdered blue or other pastel is both bright and cheery but soft enough to make any wear through in the paint seem like a natural, organic part of the finish. Depending on the color, this is a great way to get a fun retro look, evoking a childhood bathroom without really making it look like grandma's.
To see more of these weathered bathroom vanities, read the full article here.
HomeThangs.com is not only a home improvement superstore, it also provides expert design tips and a comprehensive shopping guide, taking the ideas from professional interior designers, and offering tips to the consumers on how to pick the products to best suit their needs.