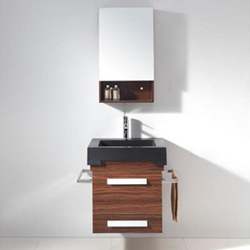 Relocating a towel bar or even a single, smaller towel ring from the wall to the side of the bathroom vanity allows that space to be used more efficiently.
(PRWEB) March 14, 2014
HomeThangs.com – the Online Home Improvement Store has made their goal to deliver the right product to the consumer. With that in mind, shopping and home design tips, as well as special product selections are being introduced.
There's tons of advice out there about how to make the most of a small bathroom, from choosing big fixtures like a bathtub, toilet, or vanity, to working in smaller details to make the bathroom easier to use. But some of the most effective ways to save space are ones that are seemingly simple, but that have a larger impact on the bathroom as a whole, like hanging a towel bar directly on the bathroom vanity. HomeThangs.com has introduced a guide to how this small but crucial change can streamline the whole bathroom.
Of any common item stored in the bathroom, towels are the biggest space hogs and unfortunately one of the ones that almost always need to be on hand. What that means is that bathrooms of all sizes come standard with towel bars and towel rings, which can occupy a good portion of the wall space, especially in a smaller bathroom, and the space taken up on a wall by a big, hefty towel (or even a set of hand towels) is space that can't be used for anything else.
The solution is surprisingly simple: put the towel bar on the sides of the bathroom vanity. Even the nicest bathroom vanities aren't much to look at from the side (and the sides are often made from inferior materials), and what that means is there's a ton of usable surface area that's simply going wasted. Mounting a full sized towel bar to the side of the vanity makes it possible to take those towels down from the wall, opening up the rest of the bathroom simply by moving one small piece of metal.
This is a small but very important change, since in a small bathroom most of the usable real estate is vertical space rather than horizontal space. When floor and flat surface areas are limited, the best and sometimes only way to amp up storage is to build it onto (or sometimes into) the walls. Relocating a towel bar or even a single, smaller towel ring from the wall to the side of the bathroom vanity allows that space to be used more efficiently. In fact, many of the bathroom vanities from Iotti not only come with built in towel bars, but also small wall mounted storage cabinets to hang in place of the old bars to maximize storage.
The best part is, nothing is lost by making this change. Unlike the walls, there aren't many other ways to use a bathroom vanity, and certainly not many ways to add storage to one. On a very basic level, having towels next to the vanity just plain makes sense: it makes it more convenient to dry hands after washing them, offers a place to leave hand towels to dry, and by extension keeps small towels from cluttering up the counter.
Admittedly this technique isn't 100% perfect in 100% of bathrooms. In a very small bathroom where the vanity butts up against a wall on one side and a toilet on the other, there simply isn't room to add a towel bar. A simple modification is to install a towel bar to the front of the bathroom vanity. Many vanities have a faux drawer panel above the actual cabinet door (which conceals the sink and plumbing), so often it's possible to mount a bar directly to it just like any other kind of hardware. That said, even small towels hung in this spot can get in the way of the cabinet door or any drawers, but in a pinch this is still a technique that can squeeze a little more storage out of the bathroom.
HomeThangs.com is not only a home improvement superstore, it also provides expert design tips and a comprehensive shopping guide, taking the ideas from professional interior designers, and offering tips to the consumers on how to pick the products to best suit their needs.