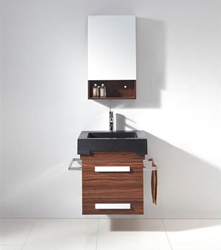 Of any common item stored in the bathroom, towels are the biggest space hogs, but they're also one of the few things that can't be stored outside the bathroom.
(PRWEB) May 01, 2015
HomeThangs.com – the Online Home Improvement Store has made it their goal to deliver the right product to the consumer. With that in mind, shopping and home design tips, as well as special product selections are being introduced.
Of all the tips and tricks out there for streamlining a small bathroom, maybe one of the most effective ones is also one of the most underutilized. Simply moving a towel bar down off the wall and affixing it to the side of the bathroom vanity is an incredible way to save space, but very few vanities come with this feature built in. HomeThangs.com has introduced a guide to why this unusual addition is worth keeping an eye out for.
First and foremost, bathroom vanities with towel bars aren't wildly innovative because the vanity is such a good place for the towel to go, but because the traditional wall installed bars are just so bad. They take up the maximum possible amount of space, often in prime real estate where much better storage cabinets and shelves could go instead, but there simply aren't many other places TO put a towel. Putting a towel bar on a vanity is the one simple solution that can clear up the rest of the bathroom space, so every inch of a small bathroom is used to its fullest potential. Add to that the fact that it's often more convenient to have towels immediately next to the bathroom sink, and this somewhat makeshift solution becomes surprisingly elegant.
For a more in depth look at bathroom vanities with integrated towel bars (and where to find them), check out the full article here.
HomeThangs.com is not only a home improvement superstore, it also provides expert design tips and a comprehensive shopping guide, taking the ideas from professional interior designers, and offering tips to the consumers on how to pick the products to best suit their needs.