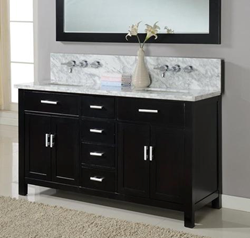 Many lesser known bathroom vanity brands offer high quality products at prices that are often lower than their big-name equivalents.
(PRWEB) November 14, 2013
HomeThangs.com – the Online Home Improvement Store has made their goal to deliver the right product to the consumer. With that in mind, shopping and home design tips, as well as special product selections are being introduced.
When shopping for a new bathroom vanity, a few big brand names are probably the first that come to mind, but they aren't necessarily the best. In fact, there are hundreds of different manufacturers out there, each with different products, features, and prices. HomeThangs.com has introduced a guide to a few lesser known bathroom vanity brands that offer high quality products at affordable prices.
Direct Vanity
Direct Vanity is a Chicago-based company that specializes in contemporary spa and mission style bathroom vanities. All their vanities have solid wood framing, legs, and drawers, as well as all the front-facing panels; only the sides and back panels of their vanities are made with MDF. Direct Vanity also uses soft closing drawers and hinges and dovetail joining in all their drawers, which makes for a very durable construction and quiet use. Maybe most notably, Direct Vanity is one of the few bathroom vanity brands that offers vanities that incorporate wall mounted faucets directly into their stone backsplashes, making for a unique luxury look without costly construction.
Bosconi
Bosconi is another slightly less well known brand that offers a nice blend of contemporary and traditional bathroom vanities. Like Direct Vanity, Bosconi's vanities feature soft closing doors and drawers, which effectively prevent them from being slammed. All of Bosconi's vanities are made of MDF over a solid wood frame, but feature marble vanity tops. Because the company is based in California, they adhere to the nations most updated and stringent regulations for emissions, meaning their vanities won't pollute the air in a home the way non-CARB P2 compliant vanities will.
B&I Direct
B&I Direct is a Florida-based company that offers a relatively small but incredibly varied assortment of bathroom vanity styles, all bundled with real stone vanity tops and porcelain sinks. Their vanities are made with solid wood frames and wood veneered faces (often rubberwood), and many of their more elaborate antique vanities are finished by hand. Where B&I really stands out from other bathroom vanity brands, though, is in terms of storage: all of their vanity cabinets come with built in shelves, and nearly every single one of their vanities has at least one functioning drawer.
Classic Design
Classic Design is a Texas based company that specializes in high quality antique replicas. Their vanities are elaborate and ornate, with many unique design features, like stamped metal insets, enameled detailing, and even faux leather accents. Some of their vanities feature beautiful metal and glass detailing, while almost all of them have some form of beautiful woodwork. Like B&I, Classic Design also places a strong emphasis on usability, and many of their vanities offer unique storage options that aren't often found in antique design. Their smallest vanities in particular offer some of the best storage available, even among some of the big-name antique bathroom vanity brands.
Belmont
Last but not least, Belmont specializes in modern, contemporary, and transitional bathroom vanities. Like Bosconi, all their vanities are CARB P2 compliant, and are made with solid oak framing. Their vanities feature smooth glide drawers and soft close doors and drawers, which means the drawers will never catch or slam. Belmont uses these simple functionality features to great effect, equipping their simple, sleek vanities with a wide array of storage options to maximize utility in their vanities of all sizes. Their vanities also come packaged with stone or glass vanity tops and porcelain or integrated glass sinks, which provide a polished, contemporary look.
To find out more about these bathroom vanity brands, check out the full article here.
HomeThangs.com is not only a home improvement superstore, it also provides expert design tips and a comprehensive shopping guide, taking the ideas from professional interior designers, and offering tips to the consumers on how to pick the products to best suit their needs.