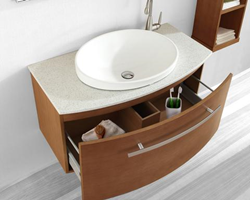 Full extension drawers maximize storage space by making it easy to see all parts of the drawer, no matter how full it is.
(PRWEB) January 15, 2014
HomeThangs.com – the Online Home Improvement Store has made their goal to deliver the right product to the consumer. With that in mind, shopping and home design tips, as well as special product selections are being introduced.
Choosing a new bathroom vanity is largely about style, size, and storage, but there are a few smaller features that can make a big difference in the day to day functionality of a bathroom vanity. HomeThangs.com has introduced a simple guide to a few of the most important gems to look for in the product description.
Soft Closing Hinges
Soft closing hinges, or European style hinges, are cabinet door hinges that have been subtly redesigned so that they close more slowly, halting the door mid-swing and automatically closing them very gently and completely silently. This eliminates the loud banging noise that's almost inevitable closing a standard bathroom vanity, and just generally has a smoother, higher quality look and feel.
Smooth Glide, Soft Close Drawers
Smooth glide, soft close doors are designed with two special rails, one on either side of the drawer, that allow the drawer to pull out totally smoothly and prevent it from becoming jammed. Traditional drawers have only a single rail in the center of the bottom of the drawer which can easily become misplaced, causing the drawer to stick, but smooth glide drawers feature more sophisticated mechanisms that won't get jostled out of place over time. Some models are even designed to close automatically, preventing them from slamming, much like soft closing doors.
Full Extension Drawers
Full extension drawers are drawers that can pull all the way out. Now, that might sound obvious, but traditional drawers with smooth or ball bearing glides can only be pulled out so far before the mechanism stops it. With no glides at all, the drawer can actually be pulled all the way out of the vanity on accident. Full extension drawers are designed so the drawer can be pulled all the way out, but with sturdy, supportive glides that are strong enough to hold a full drawer even when it's hanging completely outside the vanity.
Dovetail Joining
Dovetail joining is when the sides and bottom of a drawer have matching tabs and slots cut into the edge of the wood. When the pieces are put together, they're held very tightly in place: there are no nails to pull out, no adhesive to break, and there are so many of these tabs that it would really take some effort to pull them even slightly out of square. This is considered a luxury feature because each of the very small "dovetail" shaped tabs and slots have to be individually cut, but these are the highest quality, best-made type of drawers available.
Detachable Legs
Some bathroom vanities are sold with legs that can be adjusted in height or removed entirely. This might seem like a purely cosmetic thing: a simple difference between having a wall mounted vanity and traditional floor mounted one. But for those planning on installing a vessel sink this can actually be quite a useful feature. Installing a sink on top of a vanity instead of underneath the vanity top changes the overall height, and without altering the height of the legs, can actually make it uncomfortable to use. Bathroom vanities with legs that can be altered or removed entirely can easily be installed at the most comfortable height for any given configuration.
For more information about unique luxury bathroom vanity features, check out the full article here, or find more vanities with these great features from Sagehill Designs.
HomeThangs.com is not only a home improvement superstore, it also provides expert design tips and a comprehensive shopping guide, taking the ideas from professional interior designers, and offering tips to the consumers on how to pick the products to best suit their needs.