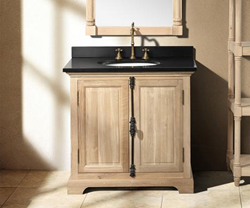 As a general rule of thumb, the more detailed and specific the description of the materials that go into a bathroom vanity, the better quality it will be.
(PRWEB) January 13, 2014
HomeThangs.com – the Online Home Improvement Store has made their goal to deliver the right product to the consumer. With that in mind, shopping and home design tips, as well as special product selections are being introduced.
Building custom cabinets means knowing exactly what materials are being used, inside and out. But buying a premade vanity – especially buying one online – can be more than a little confusing. The materials used aren't always obvious, and in some cases manufactures are deliberately vague on the matter. HomeThangs.com has introduced a simple guide to deciphering bathroom vanity product descriptions and why what they say – and don't say – matters.
As a general rule of thumb, the more detailed and specific the description of the materials that go into a bathroom vanity, the better the quality of the vanity. This isn't true 100% of the time, but it's safe to say that transparency is never bad. Manufacturers will always tout their best features, so if the materials they use are in any way especially remarkable, know that they'll almost certainly mention it in the description.
Conversely, a lack of details can be used to obscure the truth. Strategic phrasing is often used to imply bathroom vanities are made out of higher quality materials than they actually are. For example, these days, it's rare to find bathroom vanities made out of solid hardwood, and ones that are are often much more expensive, but many are still made with hardwood frames. A hardwood frame gives a vanity strength and durability, but isn't the same thing: rather than hardwood, these often have MDF or plywood paneling.
That said, genuine solid wood vanities, while they look great, tend to be very heavy and very expensive, and it's possible to get a natural wood look without paying a premium for a furniture quality piece. Many bathroom vanities are finished with veneers – that is, a thin slice of wood applied to the underlying material. This makes it possible to get vanities that look like they're made of expensive, exotic hardwoods (even with rarer, more expensive patterning) at a fraction of the cost.
Even laminate finishes – which are common on MDF and plywood bathroom vanities – aren't entirely without their merits. While they don't have the intricate grain or natural warmth of real wood, they have a sleek appearance that works well in a modern bathroom, and are capable of being printed in any color or pattern – including dramatic faux wood prints. These are less expensive, but when done right, with a thorough, well-applied finish, can be more water resistant if a little less sturdy in terms of dints and dings.
Because bathrooms are wet and wood isn't very water friendly, nearly all bathroom vanities are waterproofed in one way or another, so even if a product description doesn't mention the finish explicitly it doesn't mean the vanity doesn't have one. That said, it will come up more often if the process is very involved, if a special type of finish was used (like the Sherwin Williams finishes on vanities from Kaco), or if any part of the finish (the stain, seal, or painted detailing) was hand applied, which is a marker of a slightly higher quality.
That said, "by hand" is one of the more deceptive phrases used in product descriptions for bathroom vanities. There's a big difference between molded MDF made to look like carved wood and finished by hand and the much more rare actually-hand-carved wood vanity, but both are technically done "by hand". The best way to tell the difference is price. Machine tooling, form molding, and other automated processes drive the cost of the vanity down, while a human touch in any form is always going to come at a premium.
Another good marker of quality is the type of joint construction and door and drawer hardware used. Regardless of the type of material the vanity is made of, drawers with dovetail joining are a sure indicator of quality and durability, as they're much, much sturdier than traditional drawer joints. As well, soft close hinges and drawers, full extension drawers, and smooth drawer glides all offer a greater ease of use.
To find out more about choosing a bathroom vanity – especially for more details about environmentally friendly features – check out the full article here, or check out more high quality vanities from James Martin and Direct Vanity.
HomeThangs.com is not only a home improvement superstore, it also provides expert design tips and a comprehensive shopping guide, taking the ideas from professional interior designers, and offering tips to the consumers on how to pick the products to best suit their needs.