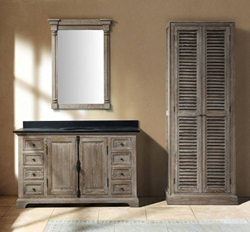 With a very distinctive bathroom vanity, buying a matching vanity and linen cabinet as part of a bathroom vanity set is one of the only ways to get a well coordinated look.
(PRWEB) August 12, 2014
HomeThangs.com – the Online Home Improvement Store has made their goal to deliver the right product to the consumer. With that in mind, shopping and home design tips, as well as special product selections are being introduced.
Bathroom vanities are the standard, bare-minimum furnishings for any bathroom, but in a heavily trafficked one that's shared by several family members, it might not be enough. HomeThangs.com has introduced a guide to why it's worth buying a matching bathroom vanity and linen cabinet together as part of a bathroom vanity set to help bridge this gap.
The more people use a single bathroom, the more stuff that bathroom needs to be able to hold, whether it's basics like towels and toilet paper, bulk items like extra soap or shampoo, or even just personal items like makeup, hair care products, and so on. Traditional vanity cabinets are big and open, so theoretically they have a good quantity of storage space, but when mixing items of different sizes belonging to multiple people, things can get a bit crowded and disorganized. Having a matching bathroom vanity and linen cabinet not only more than doubles the amount of storage space available, but keeps it better organized, too.
The vast majority of bathroom vanities have a single open cabinet with no shelving or drawers or any other organizational features. But bathroom storage cabinets are designed particularly with organization in mind, usually dividing the interior space between shelves, drawers, and small cabinets. This makes it easier to keep smaller items sorted, and keep everything in its proper place.
Bathroom storage cabinets come in many different sizes and styles, but the majority consist of a single tall tower, about twice the height of a bathroom vanity and about two feet wide. There are exceptions, of course: they can be much larger or smaller, but as a rule of thumb, a matching bathroom vanity and linen cabinet pairing probably means a large, column style cabinet.
That said, there's plenty of room for variation in design from there. The top half of these cabinets can either be left open or closed off with a wood, glass, or frosted glass door, depending on desired accessibility and visibility. The bottom halves are usually closed cabinets, sometimes with a drawer or two separating the top and bottom, but the overall design of the cabinet – both the style and the finish – are always made to match the vanity they're paired with.
That's actually one of the great benefits of buying a matching bathroom vanity and linen cabinet at the same time and from the same company. The more distinctive the style of the vanity, the more difficult it is to find a matching storage cabinet unless they're part of a bathroom vanity set. Buying both together also often means a discount on both, both for the ticket price and the shipping costs.
A matching bathroom vanity and linen cabinet can be a nice addition to a larger bathroom as well. A big, closed, cupboard style linen cabinet can be great for storing non-bathroom related linens and other infrequently used items that should stay out of sight but easily accessible. Because the cabinet is matched to the vanity it won't look out of place, and in a very large bathroom, a hefty cabinet can help balance out the empty space and make it feel properly furnished.
For more information about bathroom vanity sets, check out the full article here.
HomeThangs.com is not only a home improvement superstore, it also provides expert design tips and a comprehensive shopping guide, taking the ideas from professional interior designers, and offering tips to the consumers on how to pick the products to best suit their needs.