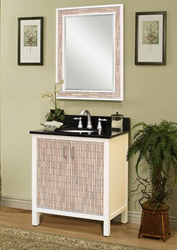 Weathered and distressed finishes of all types and in all colors have surged in popularity with the "found" look of a shabby chic decor.
(PRWEB) September 17, 2013
HomeThangs.com – the Online Home Improvement Store has made their goal to deliver the right product to the consumer. With that in mind, shopping and home design tips as well as special product selections are being introduced.
More often than not, bathroom vanities have a simple, straightforward wood finish. But lately trends have started favoring painted bathroom vanities, especially in colors and finish styles that evoke either a shabby-chic farmhouse or cottage style, or something a little more cutting edge and modern. HomeThangs.com has released a guide to six of the most on-trend color styles to dress up a bathroom vanity.
1. White
Mark one in the category of oldie-but-goodie, because plain old, regular old white is one of the hottest colors in home design right now. From traditional subway and hex tile to breezy canvas cloth, simple traditional white materials are very much in. This is especially true of white bathroom vanities, from a solid color in a traditional beadboard or shuttered style, to more weathered whites that pair well with a shabby chic or antique farmhouse style.
2. Whitewashed
Similarly, whitewashed bathroom vanities are starting to make waves, too. In contrast to a solid (or even cracked or chipped) white, this is a thin, watered-down white that lets some of the underlying wood show through. Whitewashed finishes have risen in popularity right along with plank wood or shiplap wall treatments, and mark a nice middle ground between the elegant grain of natural wood and the bright, open, clean feeling created by a solid white finish. Whitewashed bathroom vanities make the best of both worlds, with a down to earth, slightly rustic appearance that's perfect for a cozy cottage style bathroom.
3. Blue
In keeping with the resurgence of classic farmhouse and cottage styles, blue is another big, trendy color in bathroom design, especially bathroom vanities. Typically these skew toward soft pastel and sky blues with slight gray undertones that give them that aged, antique style. But brighter shades of blue, like turquoise or teal, certainly aren't out of the question. However, unlike bathrooms of the 1970s, these colors should be used as accents on a white or wood background rather than built into the whole bathroom like those old-fashioned colored enamel tubs made to match the tile and the toilet.
4. Weathered Paint
A slightly (or more than slightly) distressed paint finish is gaining in popularity as well. From the traditional black and white to more unusual blues and other soft pastels, these rough and tumble "found" finishes help create the appearance of age, enhancing that revisited-antique vibe. Most heavily weathered vanities are finished and sealed to hold up to the moist conditions of a bathroom, meaning the "damage" is purely cosmetic, but a few chips, dings, and spots of wear-through do wonders to add a rustic charm to the bathroom.
5. Black and Silver
Bathroom vanities with a more modern, formal appearance are really trendy right now, too, especially ones done in a solid black finish with a thin metallic trim or accents. Black by itself has become hugely popular in modern design in recent years, and adding simple silver detailing takes this look to the next level, giving it a delightfully sophisticated flair even if the design itself is fairly simple.
6. Gray
Gray is another color that's making big waves in home design, including the bathroom. This historically unloved neutral has found new life as a more modern alternative to drab beiges and browns. While blonde wood tones and soft greens are great for a more nature-inspired space, gray, like black, has a slightly more formal feel. Gray bathroom vanities are less daring than black ones, and have the easy-to-coordinate neutrality of other true neutrals, but are just that slightly unexpected step away from the traditional black or white that will give a bathroom a fresh new style.
For more of the latest bathroom trends, read the full article here.
HomeThangs.com is not only a home improvement superstore, it also provides expert design tips and a comprehensive shopping guide, taking the ideas from professional interior designers, and offering tips to the consumers on how to pick the products to best suit their needs.