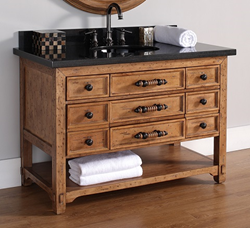 It's an age-old adage that changing out cabinet hardware is one of the fastest ways to give a bathroom a facelift, and this is particularly true with simple, contemporary bathroom vanities that are easily enhanced with the right knob or pull.
(PRWEB) July 16, 2014
HomeThangs.com – the Online Home Improvement Store has made their goal to deliver the right product to the consumer. With that in mind, shopping and home design tips, as well as special product selections are being introduced.
Simplicity reigns supreme in contemporary bathroom design, with vanities in particular skewing away from traditional ornate woodwork and more and more towards subtle designs and simple lines. But simple doesn't have to mean plain. One of the best ways to dress up a simple, contemporary bathroom vanity is with eye catching hardware. HomeThangs.com has introduced a guide to using bold cabinet knobs and oversized drawer pulls to add a visual interest to a simple vanity and give a basic design a unique and striking personality.
Big, eye-catching hardware is a bathroom vanity's version of chunky jewelry: with too much else going on, it can be a little overwhelming, but paired with a simple "outfit" it can be the star of the show. On a sufficiently simple backdrop (which most contemporary and transitional vanities are), the hardware itself doesn't even have to be particularly elaborate, it just has to be bigger and more distinctive than the basic round knob or rectangular pull. On a vanity is all simple, straight lines, there's a lot of room to get creative with the hardware, since it will be the one and only really detailed point on the vanity.
It's an age-old adage that changing out cabinet hardware is one of the fastest ways to give a bathroom a facelift, but when vanities and their hardware are designed to work together, the result can be even more stunning. That can mean a texture or pattern on the paneling or the placement, style, shape, or material of the hardware. The vanity itself can be incredibly simple, but using distinctive hardware can draw attention to its best and most unusual features, even if they're fairly subtle.
Where the knobs are installed matters, too. Because cabinet hardware is primarily functional, not decorative, it's almost always installed with usefulness in mind: i.e., on the front of the drawer or opposite the hinges on a cabinet door. But what that means is that hardware used purely for decoration – and placed somewhere out of the ordinary – immediately gives the vanity an artistic, designer look and feel.
Using hardware that isn't typically found on bathroom vanities is another way to infuse a simple vanity with a little extra style. Unusual or repurposed handles can totally alter the appearance of an otherwise very simple vanity, and reclaimed antique hardware in particular can give a slightly rustic vanity a posh, polished look and feel.
Really, though, vanity hardware doesn't even have to be particularly unusual to be showy. In fact, on slightly more modern bathroom vanities, more often than not the showiest hardware is almost the same as the simple, standard, rectangular hardware: it's just bigger, shinier, and sometimes positioned a hair off center or otherwise asymmetrically. By and large, chrome is a no-no finish right now, but on an extremely simple modern vanity done in a dark finish, there's absolutely nothing more eye-grabbing.
For more ideas about how to dress up a simple contemporary bathroom, check out the full article here.
HomeThangs.com is not only a home improvement superstore, it also provides expert design tips and a comprehensive shopping guide, taking the ideas from professional interior designers, and offering tips to the consumers on how to pick the products to best suit their needs.