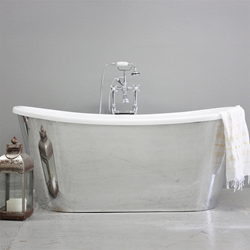 Our clients come to us seeking something extra special
Saint Petersburg, FL (PRWEB) June 18, 2014
Baths of Distinction, a leading maker of acrylic bathtubs with over a decade of industry experience, reveals the addition of a new range of exclusive Aluminum Skirted Tubs. Baths of Distinction provides customers with an elegant bathing experience, as the company's tubs are truly individual and one-of-a-kind.
Homeowners and industry professionals alike have described Baths of Distinction's (BOD) tubs to be "works of art", and the owners couldn't agree more. "Our clients come to us seeking something extra special", claims owner Bill Hamilton. "Each of our tubs are unique, well-crafted, and hand finished".
Over time, makers at BOD found that aluminum is a better building material to use when a product is subject to watery conditions. Baths of Distinction continuously seeks to improve their products to maintain the status of industry mavens. As such, various sizes and styles of acrylic Aluminum Skirted tubs are now available. The new line has been received well by designers and consumers.
Baths of Distinction finds these Aluminum Skirted tubs to be very unique compared to traditional freestanding acrylic tubs, as they have a translational look. BOD tubs still keep the classic shape, but the aluminum skirts add a modern twist. Different styles such as a traditional French Bateau or a Swedish Sipper are available in different finishes such as mirror and burnished. To browse various styles and finishes, please visit http://www.bathsofdistinction.com.
Tub models such as The Corfu show aluminum's beauty as it is highly polished to a mirror finish. The Santorini, another model, is unique in how it is burnished. Tub sizes range from 54" to 73'', to fit every consumer's need.
About Baths of Distinction:
Baths of Distinction manufactures high-quality clawfoot and pedestal bath tubs, as well as unique finishes, for homeowners and builders. Baths of Distinction is an industry authority on the subject of vintage-inspired tubs and fixtures with experts who can bring your vision to life, whether it includes modern refinery or Victorian elegance.
To see what Baths of Distinction can do for you, visit http://www.BathsOfDistinction.com.