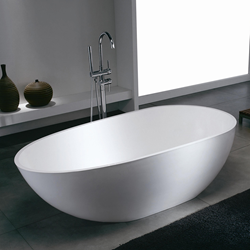 The Paris is a fabulous long luxurious egg shape solid surface stone resin soaking tub. The demand is already high for this tub
Saint Petersburg, FL (PRWEB) June 18, 2015
Baths of Distinction is pleased to announce the launch of a complete new line in contemporary solid surface stone resin bathtubs and single skin freestanding modern tubs. These models are the very latest concepts in modern tub design, with fabulous styles and shapes. With over fifteen new styles to choose from and sizes ranging from a short 58 inch up to a large 75 inch length, Baths of Distinction feels they have something special for every buyer.
Ed Malek, production engineer at Baths of Distinction says "Not only are we offering great new styles and designs, we have designed all of our tubs to be installed from above floor level, meaning there is no need for access from a room below. Having heard the difficulties that many of our builder clients encounter when trying to install freestanding bathtubs, we produced them with integrated drains that allow for all fitting from above floor level- no need to access holes from the ceiling."
Malek continues, "This saves a lot of time and money during installation. We also supply the drain and drain hub to make life even easier."
While most of the new tubs will have center drains and two similar ends, there are also several models offered with end drain fittings. For buyers who are remodeling and are simply unable to move their floor drain, Baths of Distinction has also designed their tubs to accommodate drain diverters which will handle any install situation.
The entire new range of contemporary tubs will be available at the end of July 2015.
About Baths of Distinction:
Baths of Distinction manufactures high-quality clawfoot and pedestal bath tubs, as well as unique finishes, for homeowners and builders. Baths of Distinction is an industry authority on the subject of vintage-inspired tubs and fixtures with experts who can bring your vision to life, whether it includes modern refinery or Victorian elegance.
To see what Baths of Distinction can do for you, visit http://www.BathsOfDistinction.com