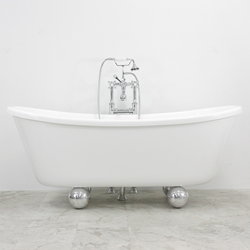 Saint Petersburg, FL (PRWEB) November 05, 2014
Baths of Distinction, a leading retailer of unique, hand finished bath tubs, is excited to announce their new range of transitional and vintage tubs. The makers of Baths of Distinction enthusiastically note that they are now offering a complete new array of clawfoot, pedestal and skirted freestanding bathtubs from The Tub Studio, a sister company. Both businesses are based in Florida and offer stunning, artisan crafted bathtubs. Interested parties can browse tub collections at http://www.bathsofdistinction.com/category_s/165.htm.
In addition to the exciting and exclusive new designs, The Tub Studio also incorporates a full range of all bisque tubs. Traditionally, white bath tubs are used in 60% of bathrooms, but bisque is by far the second most popular color. Bisque covers about 30% of today's market, according to Baths of Distinction's decade of experience.
Unlike traditional manufacturers of bisque color acrylic tubs, The Tub Studio has managed to guarantee Baths of Distinction that the maximum upcharge for one of their tubs in bisque will be $200.00. "This is compared to the industry average of a $500 upcharge for this color," notes Operations Manager Edward Malek.
It has been a long time since any manufacturer has offered such revolutionary styling to the traditional clawfoot tub. However, with their newly re-designed modern and vintage feet, Baths of Distinction believes their new partner, The Tub Studio, has produced some exceptional designs.
Mr. Malek says that the interest from designers and builders alike in regard to The Tub Studio's new style has been incredible. A few more new designs will be coming on to the market from The Tub Studio in the next few weeks, be sure to check back.
About Baths of Distinction:
Baths of Distinction manufactures high-quality clawfoot and pedestal bath tubs, as well as unique finishes, for homeowners and builders. Baths of Distinction is an industry authority on the subject of vintage-inspired tubs and fixtures with experts who can bring your vision to life, whether it includes modern refinery or Victorian elegance.
To see what Baths of Distinction can do for you, visit http://www.BathsOfDistinction.com