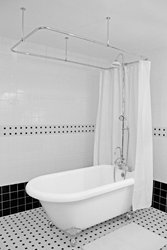 (PRWEB) August 12, 2014
Baths of Distinction, a premier maker of designer clawfoot and pedestal style acrylic bath tubs is pleased to announce that several of their tubs and fixtures will be featured on the cable television show 'A Taste of New York'. The weekly lifestyle program 'A Taste of New York' airs on Time Warner and features travel, food, health, beauty, and also, home design.
The home which will be featured on the segment is a 1920's three story frame house in the up and coming Bushwick neighborhood of Brooklyn. The house is currently being restored, while it does have many of the original period details intact. The homeowners are planning to update the house fully, while retaining its original charm and heritage. Baths of Distinction exclusive products will help the renovation team meet their design goals.
Baths of Distinction's (BOD) tubs and fixtures will be key to providing authenticity to this remodel. The new owners, a fashion designer and an executive at Ralph Lauren, have goals to ground the design of the house with as much original detail as possible. They will then layer in more eclectic pieces to modernize the overall feeling. Renovation is set to begin in September and the show is due to air in the fall, around October/November 2014.
The BOD tubs being used are a 56" classic design- a tub shape dating back to the late 1870's. One is a claw foot version, the HLFL56SHPK, and the other, a pedestal version HLFLPD56SHPK. Both incorporate shower enclosures with Victoriana faucets and drains.
Baths of Distinction will also supply matching sink faucets and a vintage exposed shower for one of the new bathrooms.
The owners and designers of BOD are ecstatic to showcase their elegant, hand-finished products.
About Baths of Distinction:
Baths of Distinction manufactures high-quality clawfoot and pedestal bath tubs, as well as unique finishes, for homeowners and builders. Baths of Distinction is an industry authority on the subject of vintage-inspired tubs and fixtures with experts who can bring your vision to life, whether it includes modern refinery or Victorian elegance.
To see what Baths of Distinction can do for you, visit http://www.BathsOfDistinction.com.