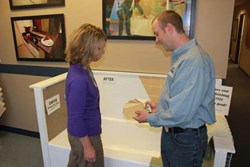 The new location and showroom will enhance our ability to better serve the community.
Colorado Springs, CO (PRWEB) August 29, 2013
The new, expanded location, located just off of Garden of the Gods and 30th Street, at 4310 Arrowswest Drive will be roughly twice the size of the current location. Miracle Method of Colorado Springs provides service to homeowners, property managers, military installations, and hotels in Colorado Springs and the surrounding area.
Miracle Method specializes in the professional repair and restoration of bathtubs, tile surrounds and kitchen countertops. Miracle Method's proprietary process is an excellent alternative to costly removal and replacement remodeling. Surface refinishing often saves homeowners up to 75 percent over traditional replacement costs, making it an especially great value in today's economy.
According to Randy Stark, Miracle Method Colorado Springs General Manager, the new location and showroom will "enhance our ability to better serve the community." Stark added, "Bathtubs, tile surrounds or a kitchen countertop can be completely transformed within 2 to 3 days."
The Miracle Method process can also be used to change outdated bathroom colors and update laminate kitchen countertops with stone-look finishes. The end result with Miracle Method is a durable, like-new look and feel with a five-year warranty. "Our process is not only appealing because of the money we save our customers, but because of how quickly we can create a bathroom or kitchen makeover," says Stark.
Nationally, Miracle Method's customers include not only millions of homeowners, but property managers, colleges, hospitals, and the finest names in hotels such as Hyatt, Hilton, Sheraton and Marriott.
Miracle Method, with over 130 franchise locations across the country, has earned a reputation as the Preferred Refinisher by providing quality work and service for over 35 years.
To schedule your free in home estimate, call Miracle Method at 888-271-7690 or visit http://www.miraclemethod.com/coloradosprings.