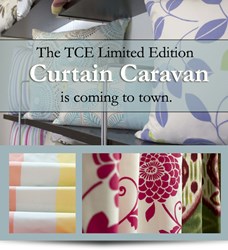 The trunk show is a great way for our customers to get designer curtains at affordable prices
Baton Rouge, Louisiana (PRWEB) October 31, 2013
Baton Rouge luxury draperies seller The Curtain Exchange has announced that the store will be hosting the TCE Limited Edition Curtain Caravan October 25 - November 9, 2013. In addition to the discounted limited edition items offered in the trunk sale, The Curtain Exchange of Baton Rouge will also be offering discounts on the store's regular stock. During the week of the trunk show, the store's regular stock of hanging panels, bedding, tassels and pillows will be 15 percent off.
The TCE Limited Edition Curtain Caravan is a traveling trunk show that exclusively visits The Curtain Exchange locations around the Southeast. The trunk show offers unique high-end draperies and pillows that are made with limited edition fabrics, many of which are exclusive to The Curtain Exchange. All of the items offered in this trunk show are available at much reduced prices.
"We are excited to host the TCE Limited Edition Curtain Caravan," says The Curtain Exchange of Baton Rouge owner Hollen Brown. "The trunk show is a great way for our customers to get designer curtains at affordable prices. Plus, since these are limited edition, people will have the chance to get curtains that no one else will have."
Customers can see examples of these limited edition curtains online at http://www.thecurtainexchangelimitededitions.com. Items in the trunk show are also available for purchase online, but those interested are encouraged to purchase in-store so that they can see their curtains in person before buying.
The Curtain Exchange offers custom luxury curtains and designer drapery and window treatments in Baton Rouge, Louisiana. In addition to a constantly updated line of fabrics that may be selected from to create custom draperies, The Curtain Exchange also carries a distinctive selection of ready-made curtain styles and offers drapery hardware and installation. The store's in-house consultants are happy to work with guests in-store or at home, and customers are encouraged to take advantage of The Curtain Exchange's 48-hour take home approval process. All of The Curtain Exchange's draperies are made in the USA. For more information or to schedule an in-home consultation, please visit http://www.thecurtainexchange.com.