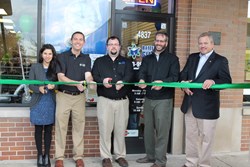 The portable world we live in runs on batteries. When those batteries need to be replaced, Battery Giant is here to help.
Chicago, IL (PRWEB) November 15, 2013
Battery Giant celebrated the opening of their Chicago Battery Store in Washington Park with a Grand Opening event on November 9th. The store had many special guests on hand for the ribbon cutting, including Alderman John Arena (45th) and State Representative Rob Martwick. The event also doubled as a battery recycling drive that filled over 168 gallons of containers with used batteries.
In preparation for the event, Battery Giant reached out to local schools to collect used batteries and bring them to the store for the event, with the school that brought in the largest volume of batteries receiving a $500 donation back to the school. 10 schools signed up for the program and Hawthorne Scholastic Academy took the prize by filling 38 gallons of containers.
This franchise location is owned and operated by Dave Meyer. "The expanding need for batteries led me to open the store," stated Dave Meyer. "The portable world we live in runs on batteries. When those batteries need to be replaced, Battery Giant is here to help."
Battery Giant is a one stop shop for all of the local consumer's battery needs, carrying thousands of battery products that range from hearing aid batteries to fork lift batteries. The location is also an authorized Fisher Price Power Wheels Service Agent, certified to work on all children's Power Wheels toys.
"We are excited that our 4th Chicago area store is up and running," stated Greg Danziger, President of Battery Giant Franchise, LLC. "With an excellent location, this new battery store provides a great retail showroom to serve retail battery needs, while allowing us to reach out to the commercial opportunities in the area." Battery Giant has also announced plans for a 5th Chicago area battery store, scheduled to open in the first quarter of 2014.
About Battery Giant
Headquartered in Sterling Heights, Michigan, the company currently operates seventeen (17) franchised retail locations in Michigan, Ohio, Illinois, Arizona, Florida, Arkansas, Panama, Pennsylvania, Texas and Puerto Rico. They carry a wide range of replacement batteries and battery products, plus offer an energizing opportunity for franchise ownership in the ever- expanding battery market. With a focus on the environment, Battery Giant helps consumers recycle their rechargeable batteries and old cell phones by conveniently offering free recycling at each of their franchise store locations. They are proud to provide their customers with the most innovative, cost-effective, and knowledgeable solutions available along with friendly customer service.
For more information about Battery Giant, battery recycling, green power solutions, or franchise opportunities, visit their website at http://www.batterygiant.com, or contact Greg Danziger, President, at 586-446-6194.