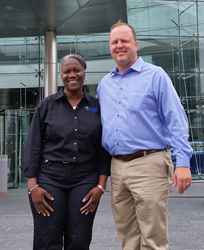 I'm proud that I can offer a much needed product and service to my home city of Detroit and be a part of all the growing synergies.
Detroit, MI (PRWEB) July 23, 2014
Retail battery store, Battery Giant, has announced that they have a franchise agreement in place for a store to be opened in the city of Detroit. The Detroit store joins 5 other Michigan Battery Giant locations and is scheduled to open in late 2014. The franchise owned store is part of a growing network of 25 locations throughout the United States, Panama and Mexico for the Michigan-based retail franchise.
Battery Giant is a specialty store that sells and distributes batteries of all sizes, powering devices from hearing aids to forklifts. Their customers range from retail walk-in customers, to large commercial accounts. "In a world of electronic devices which take all different types of batteries, consumers need a place to turn to and be confident that they are getting what they need," stated store owner Chaundra Haynes. Every Battery Giant store is also equipped with a Tech Center where they can test, rebuild and change batteries in devices that many people don't realize can be fixed.
The city of Detroit has seen an increase in development through major investors like Dan Gilbert and Mike Illich. Other businesses have taken note, and are investing in the city as well. Battery Giant hopes to support the influx of young, tech gadget using talent that recent new development has brought into the city. "My commitment to Detroit has been everlasting and when the opportunity arose with Battery Giant, it only made sense to contribute to the existing energy that's always been in Detroit, and is getting more powerful every day," Haynes said. "I'm proud that I can offer a much needed product and service to my home city of Detroit and be a part of all the growing synergies."
The average household has an average 28 battery powered devices and Battery Giant fills a need by supplying often hard to find replacement batteries in addition to standard household and automotive batteries. They provide full life cycle services as a free recycling center for used batteries as well, keeping harsh chemicals out of landfills and incinerators.
Battery Giant is in the process of negotiating the lease for their physical location in Detroit. However, with their major distribution warehouse located in Madison Heights, Chaundra Haynes is open for business and able to service the needs of Detroit businesses immediately.
About Battery Giant
Headquartered in Madison Heights, Michigan, Battery Giant currently operates 25 franchised retail locations in Michigan, Ohio, Illinois, Arizona, Colorado, Florida, Arkansas, Texas, Panama, Pennsylvania, Puerto Rico and Mexico. Battery Giant is a multiple revenue stream franchised store, offering retail battery sales, business to business sales, tech center services and battery recycling. For more information about Battery Giant, battery recycling, green power solutions, or franchise opportunities, visit their website at http://www.batterygiant.com, or contact Greg Danziger, President, at 248-414-1884.