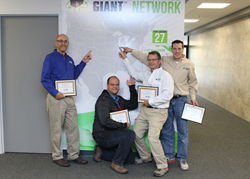 We have found that finding the right partners to represent our growing brand is the key to long term success
Madison Heights, MI (PRWEB) November 25, 2014
Battery Giant is proud to announce the graduation of four new store owners from their Battery Giant University Franchisee Training program. The commencement ceremony, held on November 14, 2014, included Freddy Fernandez from Orlando, FL, Jim Treitman from Denver, CO and TJ Pomierski and Todd Kainrath from Naperville, IL.
"We have found that finding the right partners to represent our growing brand is the key to long term success," states Battery Giant President Greg Danziger. "Jim Treitman and Freddy Fernandez bring their strong entrepreneurial experience to Battery Giant, and will be the first franchisees to break ground in their respective Colorado and Florida areas."
Battery Giant's fifth location in the Western Chicagoland region will be unveiled with a store location in the key Midwestern hub of Naperville, IL. Danziger explained, "Franchise owners TJ Pomierski and Todd Kainrath are well prepared to capture the growing demand for our specialty battery products and battery recycling program in that marketplace."
The Battery Giant University training consists of online training, classroom instruction and in-store retail sales training. Franchisees participate in instructor led lectures, workshops, interactive learning, hands-on tech center experience, and job shadowing at several of our existing Battery Giant retail locations in Michigan. The training is designed to teach a basic knowledge of batteries and their product applications, customer service, retail store operations, management and marketing skills, commercial sales and technical center repairs. This provides new franchisees with all the tools necessary to successfully open their Battery Giant stores.
Battery Giant continues to focus on being the neighborhood battery authority and battery recycling collection center. Danziger affirmed, "Because of our individual franchisee's strong interest in their local community, Battery Giant is able to open new doors in new territories."
About Battery Giant
Headquartered in Madison Heights, Michigan, Battery Giant currently operates 27 franchised retail locations in Michigan, Ohio, Illinois, Arizona, Colorado, Florida, Arkansas, Texas, Panama, Pennsylvania, and Puerto Rico. Battery Giant is a multiple revenue stream franchised store, offering retail battery sales, business to business sales, tech center services and battery recycling. For more information about Battery Giant, battery recycling, green power solutions, or franchise opportunities, visit their website at BatteryGiant.com, or contact Greg Danziger, President, at 248-414-1884.