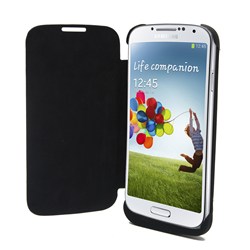 The Power to charge your Life
Dallas, TX (PRWEB) August 01, 2013
OnTrion, the manufacturer of stylish extended batteries and accessories for all the major smartphones, has just released the LifeCHARGE Samsung S4 extended battery case. Streamlined to perfectly fit the form of the S4, the case affords Samsung Galaxy owners up to double the battery life of the S4. Additional battery case features include a flip cover for added protection and a case stand for convenient hands-free viewing of video.
A recent CNET headline declared that Samsung is still the smartphone king. Indeed, the recent debut of the Galaxy S4 has helped fuel an increase in Samsung shipments of more than 20 million units over the second quarter of 2013.
Despite the new S4's popularity, however, its battery life runs middle of the pack in terms of the competition. In fact, the Galaxy S4 Active model extended almost one hour and 20 minutes less than the talk time offered by the Snapdragon 600 variant of the Galaxy S4 in active battery testing. An OnTrion LifeCHARGE extended battery case helps Samsung S4 users get the most out of their phone, not matter its built-in power up time.
For additional information on OnTrion LifeCHARGE Samsung S4 battery cases, visit the company on the Web at http://www.ontrion.com/lifecharge. To learn more about the superior extended life features the company's battery cases offer, contact OnTrion's PR dept.