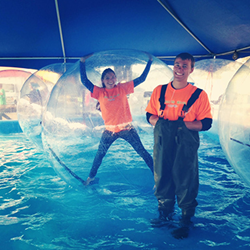 Columbia Orthodontics wants to invite you to their 5th annual Patient Appreciation Party!
Vancouver, WA (PRWEB) August 13, 2015
Columbia Orthodontics is an orthodontist in Battle Ground WA that recently released a blog post about their yearly patient appreciation event for their patients and the community. The party will take place on August 19th from 2-5 pm at 101 NW 12th Avenue in Battle Ground. The blog discusses the in depth details of the event. This is the fifth year in a row they have put on this event, and this year it is hosted in partnership with their referring Battle Ground Washington pediatric dentistry clinic- A Children's Dentist.
This post can be found here.
The reason behind the event is simple says Columbia Orthodontics. They want to thank their patients for entrusting them with their orthodontic care. They realize that each of their patients are different, and they are passionate about working together with them to achieve that unique smile.
Orthodontist Dr. Robert Croft says, "I love the relationships I am able to build with my patients and their families by providing the care we give. While much of the work I do is repetitive in nature, the individuals are all different and that helps make every day fun."
Since they say that they hold their patients in high regard, the patient appreciation party itself is completely free to the community. There will be a variety of fun activities available to help make August 19th a success. In years past, attendants have had the opportunity to enjoy games, prizes, snow cones, and face painting. This year is not expected to disappoint, there will even be the WOW! Walk on Water equipment available, which has been a major hit with the kids in previous years.
The patient appreciation event is advertised in the local Battle Ground newspaper "The Reflector" in hopes to spread the word about the event, as well as the importance of dental and orthodontic care to keep peoples' mouths healthy and beautiful.
They are excited to see past patients and their families. Public Relations Coordinator Velenti Lindquist says "it's fun to see former patients, grown up and with their own families, come say hi to us. We've had that happen every year. It's just nice to feel the 'family' part of what we do."
About Columbia Orthodontics
Columbia Orthodontics is an Orthodontic Clinic serving Battle Ground Washington as well as Vancouver Washington. They are proud to set the standard for quality orthodontic care in the Vancouver area. They offer Invisalign and SureSmile braces, providing their patients with the most cutting edge technologies for teeth straightening and overall mouth health. Creating one-of-a-kind smiles every day, Dr. Robert Croft is a specialist in orthodontics for adults and children. The staff at Columbia Orthodontics is dedicated to keeping families healthy. They stay true to their motto "We're All About Smiles!"