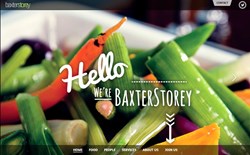 London (PRWEB UK) 27 September 2013
BaxterStorey has officially launched its brand new website – http://www.baxterstorey.com
Designed to realign its brand positioning with modern trends and themes, the new site will help it strengthen its business presence in the market place and improve recognition amongst existing clients and prospects.
The objective was to develop a creative website with easy navigation to provide quick access to information about BaxterStorey's services and to allow visitors to get in touch effortlessly. In addition, the website has been optimised for viewing on different platforms and devices, including Internet Explorer, iOS, Chrome and Firefox whilst being compatible with desktops, tablets and mobile devices.
The site is now also fully integrated with all their official social media activities, which directs visitors to BaxterStorey social channels and vice versa.
It is worth a visit now to read about BaxterStorey's passion for food, commitment to people development and their heritage and history, and admire the stunning new look and feel!
ENDS
For further information about BaxterStorey contact Grayling:
Sarah Hartland or Hannah Keddie on 02380 382970 or email sarah.hartland(at)grayling(dot)com / hannah.keddie(at)grayling(dot)com
ABOUT BAXTERSTOREY
BaxterStorey is the UK's leading independent food service specialist. Its heritage is built on the culinary expertise and the professional training and development of its people.
It employs more than 7,000 people at over 600 locations, and provides food service excellence to clients and customers in business and industry.
BaxterStorey's core principle is to serve the best quality food, sourced and prepared locally using the finest produce. Through its chef and barista academies, it provides focused and dedicated training to front line teams helping them to become the best in their profession and to build a career for life.
The reach and talent of BaxterStorey's business enables it to draw on an extensive pool of expertise within the food service sphere in the UK, providing it with a strong foundation to share and distribute best practice both locally and across the country.
#welovethisbusiness
Follow BaxterStorey on Twitter
Circle BaxterStorey on Google Plus
Keep upto date with BaxterStorey on LinkedIn
View BaxterStorey videos on Youtube