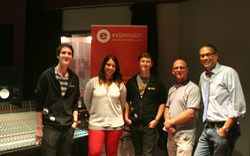 Christien had never done studio recording before, but I think he was impressed by how much his singing improved after we began coaching him.
Emeryville, CA (PRWEB) October 28, 2015
Christien Kafton, a reporter for San Francisco Fox affiliate KTVU-TV, got a recording studio singing "makeover" from students at the Emeryville campus of Ex'pression College, a digital media arts college. The segment featured Kafton performing Taylor Swift's pop hit "Bad Blood".
"Christien had never done studio recording before, but I think he was impressed by how much his singing improved after we began coaching him," says Ex'pression Sound Arts Program student Chris Hughes, who will graduate from the college in November. "We were able to gain his trust early on, and he was open to taking our suggestions and guidance."
Kafton worked with Hughes and his fellow Ex'pression student Alex Spencer, who will also graduate in November. The duo helped Kafton to focus on proper breathing, how to keep his mind on his performance and not on the fact that he was on camera, and "feeling" the song's lyrics. The session lasted for three hours.
Along with producing and engineering the session, Spencer and Hughes also gave Kafton's singing a "makeover", and added pitch correction, harmonizing, EQ, compression, and other studio techniques to polish his recorded vocals.
"Tuning Christien's vocals was challenging, but he ended up sounding really good," says Hughes, who works as an engineer at Studio Trilogy in San Francisco and has produced tracks for emerging indie artists Wizard Farm Music, Chris Youmans, Kevin Droese, and Sonya Cee. "I got the sense that he learned how much hard work is involved in studio singing – including the performance, the engineering, and the production – and that he really had fun with the experience."
About Ex'pression
Ex'pression College is a digital arts college in California's San Francisco Bay Area, offering Bachelor of Applied Science degrees in Sound Arts, Interactive Audio, Graphic Design & Motion, Digital Filmmaking, Animation & Visual Effects, and Game Art & Design. Ex'pression's courses are accelerated, class sizes are limited, and the faculty is staffed with experienced industry professionals. At Ex'pression, students use professional-grade equipment and facilities, and receive a hands-on educational experience in working environments that emulate the industries they'd love to be a part of. Ex'pression College was acquired by SAE Institute in 2014.
About SAE
SAE Institute provides aspiring creative media professionals with a foundation of practical theory and valuable hands-on training in their chosen areas of concentration. Under the guidance of our faculty, which is comprised of working industry professionals, students gain the essential experience they need for entry-level jobs in the entertainment business. Our students are supported in their job searches by SAE's international network of alumni, many of whom are leaders in the music, film, game arts, and live performance arenas. We offer programs in audio technology across our seven US campuses, along with a music business program at select locations, all fully accredited and focused on preparing students for employment when they graduate. Bachelor's Degree programs in Animation, Audio, Film, Game Art & Graphic Design are available at the two locations of Ex'pression College, which is owned and operated by SAE Institute Group, Inc. SAE Institute Group, Inc. is a part of Navitas LTD. Learn more at USA.sae.edu..