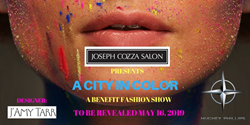 "In bringing back the fashion show to Union Square, we wanted to tie in a designer with local roots," said Blake McCall, partner at Joseph Cozza. "J'Amy Tarr fits the bill perfectly, her designs capture the essence and lifestyle of today's San Francisco woman⎯smart, chic, and timeless."
SAN FRANCISCO (PRWEB) April 18, 2019
San Francisco's "Salon to the Stars" Joseph Cozza Salon has revealed it will feature Bay Area fashion designer J'Amy Tarr at its first annual 'A City in Color' charity fashion show on May 16th.
Taking place on Union Square Plaza right in the pulse of San Francisco's shopping district, the event will treat guests to a live runway show and live entertainment by singer Kechi from NBC's hit show 'America's Got Talent' and more.
The event is a nod to the fashionable history of Union Square. In the 1950's local department stores and boutiques staged a runway show right on the plaza to showcase their latest collections.
"In bringing back the fashion show to Union Square, we wanted to tie in a designer with local roots," said Blake McCall, partner at Joseph Cozza. "J'Amy Tarr fits the bill perfectly, her designs capture the essence and lifestyle of today's San Francisco woman⎯smart, chic, and timeless."
A Bay Area native, J'Amy Tarr merges classic California elegance and easy wear-ability for a signature look rooted in Bay Area sensibilities. Her designs are all designed and produced locally.
"I'm honored to be working with Joseph Cozza to showcase my latest collection and support the very worthy causes they are raising funds for," said J'Amy Tarr. "It's a dream for any SF designer to be able to present their work right in the heart of Union Square, and I'm looking forward to a great event."
Event Details & Ticketing Info:
When/Where: Thursday, May 16, 2019
5 – 8p.m. at Union Square Plaza
Tickets & Sponsorship: Click here to purchase tickets, pricing begins at $300. Sponsorship packages are available.
Entertainment:
"A City in Color" will feature a runway fashion show by Bay Area designer J'Amy Tarr and live performances by NBC's 'America's Got Talent' singer finalist Kechi and also by electric violinist Spags. The event is sponsored by Hughey Phillips, LLP.
Fundraising:
Net proceeds will go to:
UCSF Benioff Children's Hospital
Each year an estimated 25 teenagers receiving chemotherapy need wigs. Proceeds from this event will provide these kids with custom wigs to boost their self-confidence.
Blue Heart International
The mission of this non-profit is to ensure the betterment of trafficked and sexually exploited survivors. Event proceeds will go to beauty school scholarships for women rescued from human trafficking.
About Joseph Cozza Salon:
Known as the 'salon to the stars', Joseph Cozza Salon is approaching its 25th anniversary as a landmark salon in San Francisco. The salon has been recognized nationally and internationally for its elite team of stylists and hair education programs.
Please direct all media inquiries to Laura Mathieux PR, 415.342.7796.