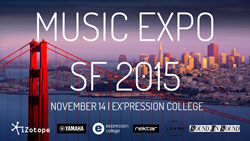 We look forward to giving Bay Area music artists an opportunity to meet their peers, learn about the newest equipment, and discuss the latest production and performance techniques.
Emeryville, CA (PRWEB) October 08, 2015
The second annual Music Expo SF will take place on Saturday, November 14 at the Emeryville campus of Ex'pression College, one of America's leading digital media arts schools. The full day event will feature keynotes, panels, hands-on recording workshops, gear exhibitions, and live performances. It's open to professional and semi-professional musicians, songwriters, music producers, audio engineers, and DJs - as well as music students and educators.
"The San Francisco Bay Area has a vibrant local music scene with incredibly talented artists in a variety of genres," says Music Expo SF founder and executive producer Loïc Maestracci. "We look forward to giving these artists an opportunity to meet their peers, learn about the newest equipment, and discuss the latest production and performance techniques."
Keynotes and panels at Music Expo SF 2015 will include:

"Modern Music Production Tips and Techniques" – featuring mixing tips and tricks from Grammy-nominated producer Jay-J
"Linnstrument Demo" – featuring a demonstration of the Linnstrument, a 3D midi controller, by its inventor, Grammy Lifetime Technical Achievement Award recipient Roger Linn
"Remixing with Ableton Live" – featuring advice and recommendations from producer, DJ, audio engineer, and Ableton instructor Lenny Kiser
"Start, Progress, and Finish Your Song" – featuring tips from musician/producer/programmer and Ableton certified trainer Thavius Beck
"Sound Synthesis and Sound Design" – featuring advanced techniques of sound design presented by Matia Simovich (INHALT, DSI, Elektron)
"Beat Workshop" – featuring instruction on how to create persuasive beats for your instrumentals with producer, educator, and DJ Randall Anderson aka DJ BKN
"Live Show Production and Tools" – featuring guidance from Thavius Beck on how to take your project on the road
"10 Things You Need To Know About Mastering" – featuring guidance on common mastering mistakes, mastering tips, and how to prepare finished recordings for submission to a mastering professional
"How To Make Money as a Musician Today?" – featuring advice from moderator Matt Saincome (Music Editor at SF Weekly) with his guests Bob Duskis (founder and CEO of Six Degrees Records), Christian B (EDM producer/entrepreneur), Casey Shafer (MAGNIFI), and Ben Kramer (VP Talent and Industry Relations at StarMaker)
"Innovation: New Instruments and Interfaces" – featuring insights from Roger Linn (creator of The Linnstrument), Christian Burkholder (producer, DJ, and co-partner at GM Crowd Records), Idan Beck (gTar/Keys inventor), Bill Mitsakos (Mitsakos Audio iPad contoller app for vintage synths), and more
"Composing and Recording for Film" – featuring an exploration of film/TV licensing by producer Ian Hultquist (ex-Passion Pit keyboards/guitar) and Mac Smith (director/producer of the documentary film "Scouts Honor: Inside a Marching Brotherhood")
"Artist Interview with New Diplomat: Steps to Re-launch as a Band" – featuring a conversation by moderator Matt Saincome with San Francisco-based electro-indie band New Diplomat that will cover planning, recording, booking live shows, and social media strategy
There will also be one-on-one peer review sessions by industry pros as well as one hour networking/feedback sessions for hip hop, alt/indie band, and EDM producers.
"We presented the inaugural Music Expo SF at Ex'pression College in 2014, and it's a natural fit for us to work together again," says Maestracci. "The school is a world class facility with state-of-the-art sound stages and studios that are ideal for us, especially with the hands-on sessions that we'll be offering to our attendees."
Music Expo SF 2015 will be held at Ex'pression College's Emeryville campus, located at 6601 Shellmound Street. The event will take place on Saturday November 14 from 9:30AM to 5:00PM. Admission is $20. Free admission is available to the first thirty students to register. To register or for more information, visit the Music Expo SF 2015 website or contact the Expo at (213) 973­-3534.
About Ex'pression
Ex'pression College is a digital arts college in California's San Francisco Bay Area, offering Bachelor of Applied Science degrees in Sound Arts, Interactive Audio, Graphic Design & Motion, Digital Filmmaking, Animation & Visual Effects, and Game Art & Design. Ex'pression's courses are accelerated, class sizes are limited, and the faculty is staffed with experienced industry professionals. At Ex'pression, students use professional-grade equipment and facilities, and receive a hands-on educational experience in working environments that emulate the industries they'd love to be a part of. Ex'pression College was acquired by SAE Institute in 2014.
About SAE
SAE Institute provides aspiring creative media professionals with a foundation of practical theory and valuable hands-on training in their chosen areas of concentration. Under the guidance of our faculty, which is comprised of working industry professionals, students gain the essential experience they need for entry-level jobs in the entertainment business. Our students are supported in their job searches by SAE's international network of alumni, many of whom are leaders in the music, film, game arts, and live performance arenas. We offer programs in audio technology across our seven US campuses, along with a music business program at select locations, all fully accredited and focused on preparing students for employment when they graduate. Bachelor's Degree programs in Animation, Audio, Film, Game Art & Graphic Design are available at the two locations of Ex'pression College, which is owned and operated by SAE Institute Group, Inc. SAE Institute Group, Inc. is a part of Navitas LTD. Learn more at USA.sae.edu.