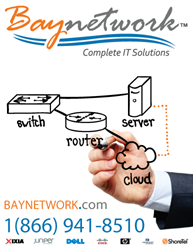 Menlo Park, CA (PRWEB) September 12, 2013
Baynetwork, Inc., a premier brand value added re-seller of IT network hardware equipment & Silicon Valley Managed IT Services Provider, increases product offerings related to 80211.ac access points through partnership with Aruba Networks of Sunnyvale, California. The addition of Aruba access points related to 80211.ac WiFi standards will help Baynetwork Inc.'s mission of future proofing customers and clients as the cloud and mobile BYOD policies dominate the business landscape.
Customers of Baynetwork, Inc. are increasingly purchasing access points and along with that increase the Baynetwork, Inc. managed IT services team has also been deploying and working closely with Silicon Valley based companies of all sizes and verticals to create better wireless security policies. "Selling & deploying Aruba's versatile 80211.ac access points in combination with well-defined firewall policies helps our customer base with the wireless control they are looking for throughout their facility and branch offices." – Yuriy Petushkov, CEO.
Being an official Aruba Networks Channel Partner provides Baynetwork, Inc. direct partner portal access. The Aruba Networks Channel Partner Program portal gives the Baynetwork, Inc. sales team and engineers better insight and offers certification on Aruba products as well as marketing collateral. The Aruba Partner Portal has helped Baynetwork, Inc. website lists over 550 Aruba Network Products. Through baynetwork.com/aruba, the world can request for discounted pricing on Aruba wireless, switches, controllers & accessories.
About Aruba Networks, Inc.
Aruba Networks is a leading provider of next-generation network access solutions for the mobile enterprise. The company's Mobile Virtual Enterprise (MOVE) architecture unifies wired and wireless network infrastructures into one seamless access solution for corporate headquarters, mobile business professionals, remote workers and guests. This unified approach to access networks enables IT organizations and users to securely address the Bring Your Own Device (BYOD) phenomenon, dramatically improving productivity and lowering capital and operational costs.
© 2013 Aruba Networks, Inc. Aruba Networks' trademarks include the design mark for AirWave, Aruba Networks®, Aruba Wireless Networks®, the registered Aruba the Mobile Edge Company logo, the registered AirWave logo, Aruba Mobility Management System®, Mobile Edge Architecture®, People Move. Networks Must Follow®, RFProtect®, Green Island®. All rights reserved. All other trademarks are the property of their respective owners.
About Baynetwork, Inc.
Since 1997, Baynetwork, Inc. a premier re-seller of new, pre-owned, refurbished and used network hardware equipment, used Cisco Routers, Juniper Switches, Dell Blade Servers, Barracuda Firewalls, Ixia Testing Equipment, ShoreTel VoIP and many other premier IT hardware brands, has helped define and shape the secondary IT network equipment market industry. From complete network design and configuration to security analysis and private cloud deployment, Baynetwork's array of managed IT services and rapid product procurement help thousands of companies deliver digital media and content across the globe with reduced costs and shortened lead-times. Baynetwork services also include major network appliance repair, IT network asset recovery, enterprise network security, data center IT hardware replacement and managed IT services.
The names of actual companies and products mentioned herein may be the trademarks of their respective owners.
For more information, press only:
Jason E. Sutherland, Marketing Director, (650) 561-8145, jason(at)sutherland(at)baynetwork(dot)com
For more information on Baynetwork, Inc.:
http://www.baynetwork.com