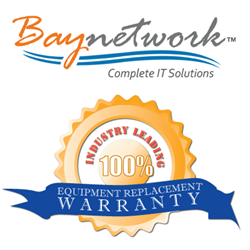 Menlo Park, CA (PRWEB) August 22, 2013
Baynetwork, Inc & Hula Networks have been doing business of network equipment sales together for over a decade and this year Baynetwork, Inc. recognizes their friends at Hula Networks for fundraising efforts benefiting High Fives non-profit organization. As a continued effort in Baynetwork's philanthropic initiatives, the recent Silver Match Sponsor of Hula Networks, Hula Tribe, is another way for Baynetwork, Inc.'s to show further appreciation for what Hula Networks does for our business and the causes we all care about.
Keeping network equipment costs down for SMB, enterprise, educational environments and the data center can be directly attributed to Baynetwork, Inc. & Hula Networks consistent effort in efficient procurement and brokering of hi-tech equipment. "While warrantied and refurbished switches and used routers are the name of the game for both of our companies there are bigger and greater foundations that we love participating in and contributing to Hula Tribe's effort for the High Fives foundation is a win win beyond all of us." – Jason E. Sutherland, Web & Marketing Director, Baynetwork, Inc.
About High Fives Foundation
High Fives Foundation is a Tahoe-based 501.c.3 non-profit organization dedicated to raising money and awareness for athletes who have suffered a life-altering injury while pursuing their dream in the winter action sports community. Formed as a way to "pay-it-forward" by the founder from his own recovery to help injured athletes, the Foundation has helped 43 athletes to date since its inception in 2009, more information visit http://www.highfivesfoundation.org.
About Hula Networks
Hula Networks has been helping service providers, carriers, data centers, and large enterprise clients increase company profits, decrease expenses, and mitigate risk since 2001. We work hard to increase our client's productivity and revenues by addressing the gaps in their current communication infrastructure and company procedures.
About Baynetwork, Inc.
Since 1997, Baynetwork, Inc. a premier re-seller of new, pre-owned, refurbished and used network hardware equipment, used Cisco Routers, Juniper Switches, Dell Servers, Barracuda Firewalls, Ixia Testing Equipment, ShoreTel VoIP and many other premier IT hardware brands, has helped define and shape the secondary market in the IT network equipment industry. From complete network design and configuration to security analysis and private cloud deployment, Baynetwork's array of managed IT services and rapid product procurement help thousands of companies deliver digital media and content across the globe with reduced costs and shortened lead-times. Baynetwork services also include IT network asset recovery, enterprise network security, data center IT hardware replacement, network equipment repair and managed IT services.
The names of actual companies and products mentioned herein may be the trademarks of their respective owners.
For more information, press only: Jason E. Sutherland, Marketing Director, (650) 561-8145, jason.sutherland(at)baynetwork(dot)com.
For more information on Baynetwork, Inc.: http://www.baynetwork.com.