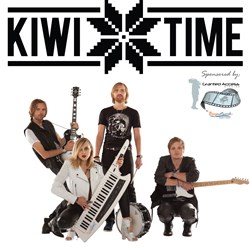 San Francisco, CA (PRWEB) October 17, 2013
This summer Kiwi Time gained sponsorship of their San Francisco based indie rock band through Granted Access Studios by Baynetwork. The sponsorship has been extremely beneficial to the band as they recently played at the 36th Annual Mill Valley Film Festival which garnered a spectacular response. Granted Access Studios by Baynetwork is a technology focused production company and both the band and the Granted Access team worked together to re-launch KiwiTimeBand.com.
The new KiwiTimeBand.com utilizes a Wordpress content management system with a responsive theme called Live developed by Brutal Design. The customized theme by Baynetwork Web / Marketing Team in collaboration with Kiwi Time allows for greater access with portable devices, social integration, band bookings and features a new MP3 music player. "Not only does the newly launched website publish 30-second samples of some of the new album music that has yet to be finalized, but also shows of Kiwi Time's new logo. The band's new logo embraces their Belarusian roots while emphasizing hip progression into the modern and technical world." – Yuriy Petushkov, CEO Baynetwork, Inc.
About Kiwi Time
KIWI TIME is a band of four childhood friends who grew up in a small town in Belarus and recently relocated to San Francisco. KIWI TIME fuses up-beat, catchy, American indie dance-rock with East European flavor.
Winners of Stoneski Battle of the Bands 2013, the ArtRockX band competition, finalist of Hard Rock Rising, KIWI TIME have wasted no time getting acquainted with their surroundings. For 2 years they have played more than 60 shows and festivals in the Bay Area, Los Angeles and New York City. As a result of their playing such legendary venues as the Regency Ballroom, Palace of Fine Arts, Hard Rock Cafe, DNA Lounge, Cafe Du Nord, Brick and Mortar Music Hall, Minna Gallery, and Supper Club; the band was featured on Live 105′s Top Ten Local Bands in San Francisco.
Their EP "A Part of Me" (Faultline Records 2011) was funded entirely by their loyal fans and supporters around the world through an IndieGoGo campaign. Six (6!) music videos were released with no budget involved at all. The band's last single "Feel You Tonight" has been gaining attention in a variety of great local music scenes including LIVE 105′s BFD Local Bands Competition and SF Station's The Lineup contest.
About Baynetwork, Inc.
Since 1997, Baynetwork, Inc. a premier re-seller of new, pre-owned, refurbished and used network hardware equipment, Cisco Nexus, Juniper Switches, Dell Servers, Barracuda Firewalls, Ixia Testing Equipment, ShoreTel VoIP and many other premier IT hardware brands, has helped define and shape the secondary market in the IT network equipment industry. From complete network design and configuration to security analysis and private cloud deployment, Baynetwork's array of managed IT services and rapid product procurement help thousands of companies deliver digital media and content across the globe with reduced costs and shortened lead-times. Baynetwork services also include IT network asset recovery, enterprise network security, data center IT hardware replacement, network equipment repair and managed IT services.
---
The names of actual companies and products mentioned herein may be the trademarks of their respective owners.
For more information, press only:
Jason E. Sutherland
Marketing Director
(650) 561-8145
jason(dot)sutherland(at)baynetwork(dot)com
For more information on Baynetwork, Inc., visit http://www.baynetwork.com.