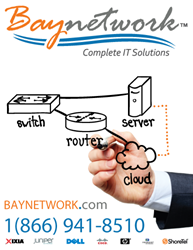 ...we could greatly reduce their ongoing IT maintenance costs.
Menlo Park, CA (PRWEB) November 18, 2013
Baynetwork, Inc. and SJB Childhood Development Centers today announced that they have reached an agreement to contract Baynetwork, Inc's Managed IT Services for one year. Baynetwork, Inc. has typically been known as one of Silicon Valley's premier network equipment brokers and thanks to substantial growth in sales and managed IT service contracts, Baynetwork, Inc. is able to provide affordable services to non-profit organizations that make a difference.
Initially introduced to SJBCDC through philanthropic efforts related to Hands On Tech Silicon Valley, Baynetwork, Inc. was able to help the SJBCDC team quickly resolve IT related matters that had been pressing or unbeknownst to the SJBCDC team. "When the time came for SJBCDC to renew their contract terms with their previous provider, we saw many unnecessary costs related to equipment and knew we could greatly reduce their ongoing IT maintenance costs." – Yuriy Petushkov, CEO Baynetwork, Inc.
The initial IT service request and transition for SJBCDC includes migrating their office environment to Microsoft Office 365 and implementing a ticket support management system for their users to submit and track IT related matters.
About SJB Childhood Development Centers
SJB's compassionate, skilled and licensed professionals strive to nurture not only the child, but the whole family as well. We offer Federal and State services as well as research and theory based curriculum and developmental evaluations that focus on the needs of each child. Through independent interactions with peers, stimulating and challenging environments, and teacher facilitated learning opportunities, children are able to develop social skills, academic confidence and creative ability.
About Baynetwork, Inc.
Since 1997, Baynetwork, Inc. a premier re-seller of new, pre-owned, refurbished and used network hardware equipment, used Cisco Routers, Juniper Switches, Dell Servers, Barracuda Firewalls, Ixia Testing Equipment, ShoreTel VoIP and many other premier IT hardware brands, has helped define and shape the secondary market in the IT network equipment industry. From complete network design and configuration to security analysis and private cloud deployment, Baynetwork's array of managed IT services and rapid product procurement help thousands of companies deliver digital media and content across the globe through reduced network equipment costs and shortened lead-times. Baynetwork services also include IT network asset recovery, enterprise network security, data center IT hardware replacement and network equipment repair.
#########
The names of actual companies and products mentioned herein may be the trademarks of their respective owners.
For more information, press only:
Jason E. Sutherland, Marketing Director, (650) 561-8145, jason.sutherland(at)baynetwork(dot)com
For more information on Baynetwork, Inc.:
http://www.baynetwork.com