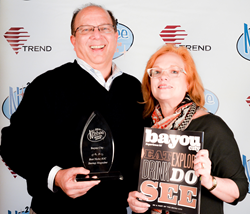 We are the first in our market to embrace new technologies such as augmented reality, responsive design web sites and emails, interactive print and an enhanced tablet edition.
Houston, Texas (PRWEB) April 11, 2014
Niche Media recognized Bayou City for this achievement based on evaluating the first issue, which was published in November 2013. The Nichee Awards are presented annually to small and medium-sized magazines across the country. Publishers must submit an entry form stating what makes their magazine different from others and describing their mission, target audience and the market their magazine serves. Six other publications were named 2014 Nichee Award winners, each in its own category.
Bayou City Magazine's mission is to connect readers with local trends and experiences in Houston, commonly known as The Bayou City. Bayou City Magazine prints six issues per year and updates online content regularly. It is a unique publication that combines a print magazine with digital extensions. A key differentiator is Bayou City's implementation of "augmented reality," which adds layers of additional multi-media material to standard editorial and advertising content.
Becky Davis, co-founder and editor of Bayou City Magazine, commented: "We stepped out on a limb with this concept. We are the first in our market to embrace new technologies such as augmented reality, responsive design Web sites and emails, interactive print and an enhanced tablet edition. Speaking for the entire Bayou City team, I am extremely grateful and honored to have our efforts acknowledged with this award."
Bayou City Magazine covers a wide range of topics such as lifestyle trends, food and drink, arts and entertainment, products and shopping, and forward-thinking individuals—all from the perspective of helping readers discover unique experiences in the Bayou City.
Bayou City appeals to an affluent, active reader aged 25 to 65 with a mean household income of $195,000 or more. Readers are highly educated—77 percent have a college degree or higher. Bayou City produces 40,000 copies per print edition, and distributes to more than 200 "close in" high end venues where lifestyle spenders shop, dine and play. Bayou City direct mails more than 20,000 of its 40,000 print copies to approximately 20 affluent zip codes.
Best Practices Mulitplatform Operation
Bayou City Magazine is a client of Mequoda Group, which offers consulting services for publishers on online publishing and editorial management.
"Bayou City is one of the first magazines we've ever seen, in Houston or out, with these technologies. The print product features augmented reality via an app called Layar, which allows users to scan enhanced print materials with a smart phone or tablet to view rich digital experiences right on top," explained Don Nicholas, chief executive officer and lead consultant for Mequoda.
Nicholas added: "Because Bayou City Magazine was born as a full-fledged multiplatform operation, Davis and her team approach content in a way completely different from other magazines. She doesn't just assign stories: Bayou City Magazine assigns multimedia packages that include a story for the magazine, a related piece for the Web site, and social media tie-ins. They're true multiplatform publishers, thinking about all platforms with everything they do."
In addition to the augmented reality with Bayou City Magazine's print edition and the responsive design to their website and newsletters, Bayou City's iPad edition features Mequoda's best-practice reflow design, along with extra content and features from Mequoda Best Practices that even are rare even among the earliest digital magazines, including the ability to tap a cover teaser and go directly to that article.
(See article by Mequoda about Bayou City Magazine's Nichee Award at http://www.mequoda.com/articles/digital-magazine-publishing/not-your-fathers-city-magazine-recognized-for-its-innovation/)
For more information on Niche Media and the Nichee Awards, please see nichemediahq.com or nicheconference.com/nicheeawards. For more information on Bayou City Magazine, visit bayoucitynetwork.com; facebook.com/bayoucitymag; and twitter.com/bayoucitymag.
Click to Tweet: Bayou City Magazine's Nichee Award shows promise of the local lifestyle pub's multiplatform approach.