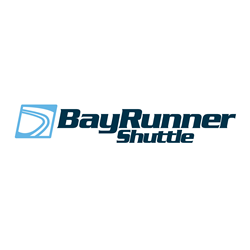 Caroline Presburg, BayRunner Shuttle says, "It's an honor to be recognized for our sustainability and growth in the community. The milestone provides us with the opportunity to celebrate the...people who work hard to deliver a reliable and safe transportation option that brings people together..."
FREDERICK, Md. (PRWEB) July 19, 2021
BayRunner Shuttle, a locally-owned and operated airport shuttle announced it has received proclamations from Frederick Mayor Michael O'Connor, Frederick County Executive, Jan Gardner and Maryland Department of Commerce Secretary, Kelly M. Schulz, in celebration of ten years of successful growth and service to the community in Frederick, Maryland and surrounding areas.
"We are proud of our operations in Frederick, Maryland and look forward to continuing to serve the needs of our clients for years to come," said Caroline Presburg, BayRunner Shuttle. "It is an honor to be recognized for our sustainability and growth in the community. This milestone provides us with the opportunity to celebrate the team of people who work hard to deliver a reliable and safe transportation option that brings people together every day."
Frederick City Mayor Michael O'Connor recently visited BayRunner Shuttle with members of his team and the City's Economic Development staff. "We join our community in celebrating BayRunner Shuttle on its 10th anniversary and for choosing Frederick a decade ago to better serve the transportation needs of area travelers. The Company is emerging from an incredibly challenging time in this travel industry, and we look forward to watching the company chart its course for the future. We are grateful to have BayRunner Shuttle as part of our robust business community."
BayRunner Shuttle first opened in Salisbury, Maryland in 2005. Upon receiving funds from the Formula Grants for Rural Areas program, the company opened operations to support vehicles, maintenance and dispatchers in Frederick, Maryland. The shuttle service has carried over 44,000 passengers in Frederick and over 122,000 in Western Maryland.
The Formula Grants for Rural Areas program provides capital, planning, and operating assistance to states to support public transportation in rural areas with populations of less than 50,000, where many residents often rely on public transit to reach their destinations.
About BayRunner Shuttle
BayRunner Shuttle offers daily BWI shuttle service throughout Maryland from Ocean City's beaches to the mountains of Western Maryland. The company also travels and partners with Amtrak (BWI Amtrak station) and Greyhound (Downtown Baltimore Greyhound station). Staffed by professionally licensed drivers, the company offers multiple daily departures from 14 pick-up locations across Maryland and free parking.
For more information call 410-912-6000 or visit https://bayrunnershuttle.com/