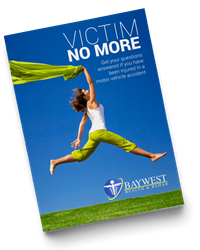 I now provide information to those, and only those who want it.
New Port Richey, Florida (PRWEB) January 17, 2017
Dr Scott Coletti DC of Baywest Health & Rehab has just launched his latest publication, "Victims No More" – a special book to help guide auto accident victims through the health and legal pitfalls of dealing with the consequences of their injuries.
The guide features 46 easy to read chapters with over 100 pages, detailing vital information for anyone who has ever been involved in an auto accident. It deals with such questions as:

What is whiplash?
What are the odds of permanent injury?
Car accident insurance: Are you covered?
After my car accident, why do I hurt so much?
Do I need an attorney?
The book is accompanied by a website, http://newportricheyaccidentinjury.com, which also provides a case example of a patient that Dr Coletti treated. This patient was desperate and seeking such information and guidance as her primary care physician refused to treat an auto accident injury victim. It is this case that led him into treating auto accident victims, and ultimately in preparing this publication.
The reason for publishing the book was simple. Author, Dr Coletti says, "My early years of Practice I would chase, chase and chase down people in accidents, and I would convince myself they needed me and my staff and what we had to offer. It took me years, but what I realized is that people will do what it is they want, and no one wanted to be told something they were not already looking for. I now provide information to those, and only those who want it. I put this book together for those who want it, that simple. Good information, but only for those seeking that information when the time is right."
The book is available free to all requesting it, and can be obtained by visiting http://newportricheyaccidentinjury.com. It is available in paperback format or instant downloadable ebook format.
Although the book covers a great deal of popular questions patients have asked, its core message is anyone who has been in an auto accident should seek a Medical Professional that has a great deal of experience in treating these patients, and back round in helping all the struggles that can result in such an instance.
About the Author
Dr Scott Coletti DC is a doctor of chiropractic and has been practicing at his clinic, Baywest Health & Rehab in New Port Richey, Florida for over 16 years. He not only treats auto accident victims, but also people experiencing all kinds of joint pain. He has trademarked two separate procedures in his practice to include Cold Laser Protocols (TM) and the Manipuflex (TM) procedure. Dr. Coletti is passionate about what he does and in serving others the only way he knows how. You can visit his main clinic website http://www.baywesthealth.com to learn more.