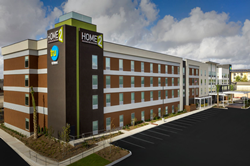 "This dual-branded property is a significant milestone for Baywood Hotels with our continued efforts to expand our footprint nationwide. This opening represents our fourth dual-branded hotel, our first development in Minnesota and expands Baywood into its 25th state," - Al Patel, President
BLOOMINGTON, Minn. (PRWEB) January 28, 2020
Baywood Hotels today announced the opening of its newest hotel, the dual-branded Home2 Suites by Hilton Minneapolis Mall of America and Tru by Hilton Minneapolis Mall of America. Located adjacent to Mall of America, the largest shopping mall in the United States, the property is a unique new addition to the Minneapolis/St Paul area's lodging offerings. The hotel expands Hilton's growing footprint of multi-brand properties in the state.
"We're delighted to open this dual branded Home2/Tru by Hilton Minneapolis Mall of America, part of a mixed used space and near the light rail that will help you get around the city," said Robyn Klein, General Manager. "Blending these two category-leading brands and their signature, yet unique, identities under one roof furthers propels our commitment to providing quality lodging options to meet a wide variety of styles, travel needs and desired price points."
"This dual-branded property is a significant milestone for Baywood Hotels with our continued efforts to expand our footprint nationwide. This opening represents our fourth dual-branded hotel, our first development in Minnesota and expands Baywood into its' 25th state," says Al Patel, President Baywood Hotels.
The multi-brand concept provides larger and enhanced communal areas and amenities than what would be standard at a standalone property, benefiting both business and leisure travelers.The hotel has a mix of unique offerings – each catering to the needs of their respective guests – including designated lobby and dining areas. The property also has a variety of shared amenities including 24-hour fitness centers, indoor pool, outdoor fire pit and grills.
The 4 Story property, developed and owned by Baywood Hotels is located at 2415 East Old Shakopee Rd. Bloomington, MN and boasts 182 rooms, with 72 Tru by Hilton rooms and 110 Home2 Suites by Hilton suites. Conveniently situated in Bloomington, MN. The hotel offers guests easy access to the METRO Blue Line light rail, Mall of America, Ft. Snelling State Park and Minneapolis-Saint Paul International (MSP) airport.
Tru by Hilton Minneapolis Mall of America features the amenities and experiences that matter most to guests, including comfortable beds, smaller, more efficiently designed rooms with a mobile desk, large bathrooms with premium bath amenities, top-rate in-room entertainment, a complimentary build-your-own "Top It" breakfast bar with healthy, sweet and savory items, a bright lobby with areas for guests to work, play games, eat and lounge, along with a 24/7 "Eat. & Sip" market with gourmet snacks and drinks. The hotel experience is enabled by technology including mobile check-in, Digital Key, super-fast free WiFi, remote printing, a social media wall, lobby tablets and accessibility to outlets everywhere. Additionally, Tru by Hilton properties offer fitness centers that leverage the latest fitness trends including barre, TRX bands, free weights, cardio and flexibility gear.
Home2 Suites by Hilton Minneapolis Mall of America offers spacious, all-suite accommodations with fully accessorized kitchens and modular furniture, providing guests the flexibility to customize their suite to their style and preference. The hotel also features complimentary high-speed internet, inviting communal spaces, and trademark Home2 Suites amenities such as Spin2 Cycle, a combined laundry and fitness area, Home2 MKT for grab-and-go items, and the Inspired Table, a complimentary daily breakfast that includes more than 400 potential combinations. Guests can enjoy a modern fitness center, indoor pool, fire pit and grill area.
###
About Baywood Hotels
Established in 1975, Baywood Hotels, Inc. is a fast-growing hospitality management and development company, operating $1 billion in assets and employing over 3,000 associates nationwide. The company is headquartered in Columbia, MD and has regional offices in Denver, CO; Miami, FL; Rochester, NY, San Antonio, TX and Northern VA. In each of its regions, the private hotel ownership company is consistently recognized as an innovative leader in the hotel industry, focusing on product concept and development and the outstanding management of its assets. The focused vision, strong values and aggressive long-range strategy of Baywood Hotels has helped the company develop reputable and well-branded hotels in areas where Baywood has competitive expertise and partnerships. Baywood Hotels' portfolio includes well-known brands, such as Marriott, Hilton and InterContinental Hotels Group, as well as several independent brands. Contact us through Facebook or our website or connect with us on LinkedIn.
About Tru by Hilton
Tru by Hilton is a game-changing hotel brand with nearly 100 open locations across North America where guests don't have to compromise between a consistent, fun and affordable hotel stay. Spirited, simplified, and grounded in value, Tru by Hilton is designed for cross-generational appeal, with a large, re-imagined public space where guests can work, play, lounge, and eat. Efficiently designed modern guestrooms feature a rolling desk, over-sized windows for natural light, and bright, spacious bathrooms. Guests can enjoy complimentary amenities, including a build-your-own 'Top It' hot breakfast with both healthy and indulgent items and more than 35 toppings, a multi-functional fitness center, and fast WiFi. Premium snacks, light meal options and single-serve wine and beer are available for purchase at the 24/7 Eat. & Sip. market. Hilton Honors members who book directly through preferred Hilton channels have access to instant benefits. Learn more at http://www.trubyhilton.com or newsroom.hilton.com/trubyhilton, and connect with Tru by Hilton on Facebook, Twitter, YouTube, LinkedIn, and Instagram.
About Home2 Suites by Hilton
Home2 Suites by Hilton, one of the fastest-growing brands in the history of Hilton, is a mid-tier, all-suite, award-winning extended-stay hotel concept designed to offer stylish accommodations with flexible guest room configurations and inspired amenities for the cost-conscious guest. With a commitment to environmentally friendly products and hotel operations, Home2 Suites offers complimentary breakfast selections with hundreds of combinations; innovative and customizable guest room designs; laundry and fitness areas; complimentary WiFi; multiple outdoor spaces; 24-hour business centers; expansive community spaces; and pet-friendly environments. Home2 Suites by Hilton has more than 350 hotels, and more than 445 in the pipeline. Hilton Honors members who book directly through preferred Hilton channels have access to instant benefits, including a flexible payment slider that allows members to choose nearly any combination of Points and money to book a stay, an exclusive member discount that can't be found anywhere else, free standard WiFi, and digital amenities like digital check-in with room selection and Digital Key (select locations), available exclusively through the industry-leading Hilton Honors mobile app. Visit http://www.home2suites.com or newsroom.hilton.com/home2suites for additional information, or here for franchising opportunities. Connect with Home2 Suites on Facebook, Twitter, LinkedIn, and Instagram.