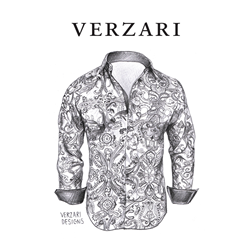 Verzari makes shirts that are designed to be worn untucked
Houston, TX (PRWEB) September 18, 2014
The "Baza" is another striking designer shirt by the creative forces at Verzari.com. It's found in the Designer Series and only available online at Verzari.com
Verzari makes shirts that are designed to be worn untucked with just the perfect hang in both the front and back.
Men's designer shirts similar to the "Baza" normally cost hundreds of dollars at high end stores like Nordstroms. But Verzari sells directly online which means customers are getting a high quality designer shirt at insanely low prices.
Verzari Shirt Features

Made of 100% premium, high quality cotton
Includes two stainless steel collar stays. Verzari never uses plastic!
Hand made and individually inspected. These are not mass produced.
Includes two extra buttons just in case (discreetly sewn on inside)
Unique designs with intricate contrasting fabrics on collar and cuffs
Compare Verzari shirts to Robert Graham and other top men's designer shirts but without the designer price tags.
Take a closer look at the "Baza" > http://www.verzari.com/baza/
View the entire Verzari collection > http://www.verzari.com/view-all-shirts/.