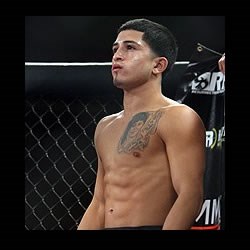 We are excited to work with Jeff Meyer and MMA, Inc., one of the premiere management teams in the business, and pleased to support Sergio in his UFC debut
Las Vegas, Nevada (PRWEB) November 13, 2013
The Las Vegas personal injury firm of Benson, Bertoldo, Baker & Carter proudly announce their sponsorship of UFC fighter Sergio Pettis as he prepares to battle at the MGM Grand Garden Arena in Las Vegas on November 16 at UFC 167. The fight will be his UFC debut.
UFC officials announced the unfortunate news that Vaughan Lee (13-9-1 MMA, 2-3 UFC) had been forced to withdraw from his scheduled bantamweight fight with Sergio Pettis (9-0 MMA, 0-0 UFC) at the UFC 167 event in Las Vegas. Two days later, however, it was announced that a replacement for Lee had been found, as veteran Will Campuzano (13-4 MMA, 0-2 UFC) will now face Pettis on November 16.
"We are excited to work with Jeff Meyer and MMA, Inc., one of the premiere management teams in the business, and pleased to support Sergio in his UFC debut," says Robert Cardenas, an attorney at the firm.
Sergio, the younger brother of UFC lightweight champion Anthony Pettis, is undefeated thus far in his MMA career. Sergio was last seen in action at September's "NAFC: Battle in the Ballroom" main event opposite James Porter, whom he defeated via submission in the first-round.
Meanwhile, Campuzano prepares for his second stint with the promotion. After suffering a decision loss to Chris Cariaso in January of 2011, Campuzano was released by the UFC. Since then, Will has gone a perfect 5-0, including a knockout victory over highly regarded flyweight prospect Josh Sampo.
UFC 167 takes place this Saturday, November 16, live from the MGM Grand Garden Arena in Las Vegas, Nevada. The event is headlined by a welterweight title fight between current champ Georges St. Pierre and number 1 contender Johny Hendricks.
About Benson, Bertoldo, Baker & Carter
Benson, Bertoldo, Baker & Carter is a highly-respected personal injury law firm that has been helping Las Vegas residents achieve justice for more than 25 years. These experienced lawyers represent individuals and families who have suffered injury or the tragic loss of a loved one due to another's negligence or misconduct, as well as workers who have sustained injury on the job. For more information, please contact the personal injury lawyers at Benson, Bertoldo, Baker & Carter to schedule a free legal consultation.