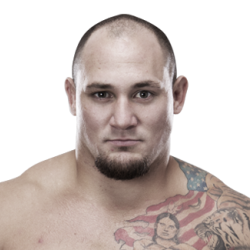 We are excited to once again work with Robert Roveta and Denaro Sports Marketing and pleased to support Shawn
Las Vegas, Nevada (PRWEB) October 07, 2013
Benson, Bertoldo, Baker & Carter, a highly respected personal injury law firm in Las Vegas, will be sponsoring UFC heavyweight Shawn "The Savage" Jordan as he battles Gabriel Gonzaga on October 19, 2013 in a fight that will be broadcast live on PPV from the Toyota Center in Houston, Texas.
"We are excited to once again work with Robert Roveta and Denaro Sports Marketing and pleased to support Shawn," says Robert Cardenas, an attorney at the firm.
Jordan, a former fullback for LSU's 2007 National Championship football team, was honored with the "Knockout of the Night" at UFC 161 in June after he beat Pat Barry in only 59 seconds and holds a 3-1 record in the octagon. Gonzaga also won his last bout in a first-round knockout, and now the two fighters are now vying for a spot in the Top 10 of the heavyweight division.
With offices in Las Vegas, Benson Bertoldo, Baker & Carter is a prominent personal injury law firm that has earned an impressive reputation for their tireless pursuit of justice over the past 25 years. They are dedicated to helping individuals who suffer harm or the loss of a loved one due to another's negligence seek full and just compensation for their damages, including medical bills and pain and suffering. If you would like to learn more about your potential right to financial compensation in a personal injury lawsuit, contact Benson, Bertoldo, Baker & Carter for a free legal consultation.