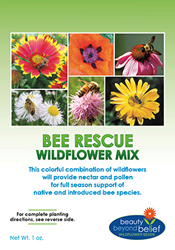 "Pollinators are in trouble," says Mike Wade, BBB Seed President. "A big part of the solution couldn't be easier or more delightful. Plant wildflowers!"
Boulder, Colorado (PRWEB) May 15, 2015
BBB Seed, a family-owned company committed to providing high quality, open-pollinated, non-genetically-engineered seed, would like to remind everybody about the upcoming National Pollinator Week. National Pollinator Week is a celebration of the valuable eco-system services provided by bees, butterflies, birds and beetles, and was initiated and is managed by the Pollinator Partnership.
In an effort to address the issue of the declining pollinator populations, the U.S. Senate in 2007, achieved unanimous approval to designate a week in June as "National Pollinator Week." The concern of the U.S. Senate is certainly a sign of progress, but it is critical we continue to maximize our collective effort.
This year, National Pollinator Week will be recognized June 15 – 21, 2015.
"Pollinators are in trouble," says Mike Wade, BBB Seed President. "A big part of the solution couldn't be easier or more delightful. eliminate pesticides and plant wildflowers!"
Honeybees and native bees play a major role as pollinators of flowering plants and are vital in sustaining healthy eco-systems. Loss of natural food supplies, habitat and the increasing use of systemic, neonicotinoid pesticides has resulted in a decline of all our pollinators. The monarch butterfly population has shrunk by 90% since the 1990's. As a result, pollinator conservation was made an important part of the 2008 Farm Bill, which re-authorizes incentives for wildlife habitat conservation practices and provides funding and expertise to assist in maintaining or purchasing easements to conserve or restore native grasslands and to protect agricultural lands from non-agricultural development. All of which help our pollinators.
It is relatively easy to practice pollinator conservation. Build or preserve bee/pollinator habit and make it a safe place. A good bee habitat would include a water source, an area for nesting, and a secure overwintering site that will remain undisturbed. Additionally, you can plant wildflowers that provide full season nutrition to the bees and other pollinators in your area.
BBBseed's Bee Rescue mixture is composed of annuals and perennials that will bloom all season long. It has been field tested and is known to attract honey bees, bumble bees and other native bees such as mining bees, leaf-cutter bees, sweat bees and long-horned bees, as well as other types of pollinators. Pollinators will forage on the flowers for nectar and pollen for their needed carbohydrates and protein. Well-nourished bees and other pollinators are more capable of fending off diseases and parasites and are an integral part of sustaining healthy eco-systems.
Additional suggestions to celebrate National Pollinator Week, as provided by Pollinator.org are to:
▪ Download the BeeSmartTM Pollinator Gardener at the iTunes Store or Android Market
▪ Plant pollinator habitat in your garden, church, farm, school or office
▪ Give a BeeSmartTM School Garden Kit to a school of your choice
▪ Give a garden tour
▪ Coordinate group visits to botanical gardens
▪ Cook a pollinated meal with ingredients of foods that rely on pollinators for propagation for yourself, friends and family or provide pollinated treats for co-workers
Pollinators bring us one in every three bites of food and maintain our environment and are responsible for about $16 billion in U.S. agricultural production and worldwide human food production at $190 billion.
Pollinators positively affect all our lives. The mission of BBB Seed is to provide high-quality seed mixes designed to help save the pollinators. Let's save and celebrate them!
____________
Founded in 1985, BBB Seed is a small, family-owned company helping our customers to Grow, Enjoy, & Share a healthy and beautiful life. Located in Boulder, Colorado there is an unwavering committed to provide high quality, open-pollinated, non-genetically-engineered seed.
BBB Seed specializes in the distribution of wildflower seeds and heirloom vegetable seeds, native grasses, regional wildflower seed mixes, and special-use wildflower mixes including an entire line of four great pollinator mixes. Our seeds are not treated with any neonicotinoid pesticides!
Visit BBB Seed at http://bbbseed.com.
###