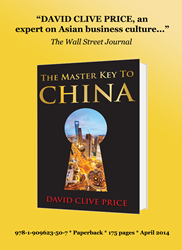 You have to become a Chinese company with Western characteristics.
London, UK (PRWEB UK) 30 April 2014
'There are unique opportunities for launching or developing business in China,' says Price. 'I want to discuss the special skill sets required, the necessity to have patience and to build networks of 'guanxi' over time, and the challenges that such a vast and diversified market poses.'
As Price points out in his recently published book The Master Key to China, the country is not a homogenous market. It is a set of overlapping but distinct markets in terms of geography, affluence, openness to foreign brands, cultural expectations and sheer size of city or province.
'Don't try to treat China as a one-size-fits-all template for your products and brands,' he warns. 'Whatever the global brand DNA of your company, you will fail in China –as Tesco, Vodafone and Google have failed – if you don't adapt to local circumstances and the local environment.'
'You must "glocalize" your approach, act global but also local, and find out everything possible about the local tastes, customs and readiness to accept foreign brands of the area,' he continues. 'There is a famous Chinese saying, "One China, Four Worlds", which refers to the wealth gaps between the highly developed mega-cities in the coastal areas, the moderately wealthy provincial cities, the less affluent county-level cities and the poor countryside.'
'Whether you're in the far west in Xinjiang province (largely Muslim in belief), or Fujian province in the deep south (close to Taiwan), you will have to achieve expertise in your target market to succeed. In the process, you will become "a Chinese company with Western characteristics".'
About David Clive Price
With 25 years' experience of Asia business, David Clive Price helps Western companies, SMEs and entrepreneurs to launch and expand in Asian markets. His International Business Passport consulting packages and bestselling Master Key Series offer proven strategies for building profitable partnerships and gaining competitive advantage in Asia Pacific.
Media Contact Info
David Clive Price
david(at)davidcliveprice(dot)com
Location: London, UK